Community Sends Summer Spots to Ryan Library
This summer was the fifth annual Ryan Library Postcard Contest.
Students were encouraged to mail a postcard, email, tweet, or post on Instagram a photo of their summer activities to Head Librarian Nancy Body. On social media, students are asked to use the hashtag #postcardstoHill2017.
Contest participants had the opportunity to win an Amazon gift card.
Prizes are given for the first postcard received, the first electronic submission, the destination closest to and furthest from Hill, the postcard closest to and furthest from the student's home, the most postcards sent, and five random submissions.
Body started the contest in 2013 to bring the Hill community to the library, to promote reading, and because she believed it would be fun to see what Hill students did during the summer.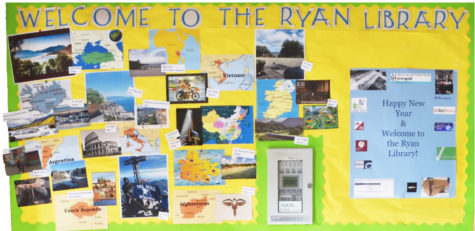 "I enjoy seeing slices of [students'] summer adventures," Body said.
This summer, The Ryan Library received about 40 postcards. Students travelled as far from Hill as Afghanistan, Vietnam, and Tanzania.
"The postcard competition connects Hill students and allows us to see and appreciate where fellow students have been and what experiences they've been having," Nicole Sergiwa '18, who digitally sent a postcard from Buenos Aires, said. "It is often very inspiring for younger students as it creates a desire to travel and gain new experiences."
The postcards will be displayed in the library entryway throughout September.