From a Day Student to a Boarder: A Reflection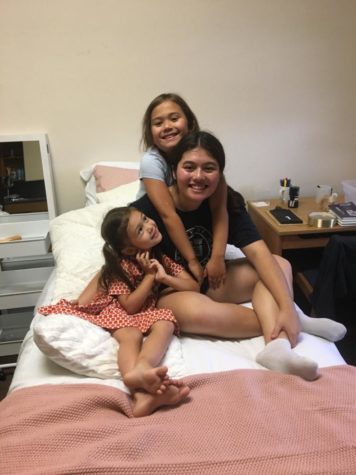 After three long years, I can finally call myself a sixth former. I have the blazer and the privileges, and it's all very exciting. But the most thrilling part was not being able to call myself a sixth former, but a boarder. Being able to drive my fifth form year made it one of the best years of high school, especially when all student drivers got to go home part way through the day last year due to incoming sleet and ice. Even so, throughout my day student years, there was always the underlying excitement of becoming a boarder— not having to commute, being with your friends all the time—it all seemed like the ideal situation. Being a boarder has met many of my expectations, but it's also been a hard transition because it is very different from what I had always pictured.
I'm not used to being around so many people my age every time of the day. At 10:50 PM when I leave my room to brush my teeth for the night, I run into at least five people. I'm not used to going to every check-in and being in my room at a certain time. I'm definitely not used to going to every Tuesday seated dinner, and while I adore my roommate and value our friendship dearly, I'm not used to sharing a room with another person.
Of course, I feel extremely blessed to attend this school, and being a boarder has been okay overall,  just not great. My roommate and I have had some good laughs, and everything is working out really well between us, despite the fact that we enable each other's snacking habits. It is infinitely more convenient to not have an hour commute every day, not to mention to have a place to crash whenever I feel the urge to nap. My mother can also attest to the fact that I spent way too much time and money this past summer designing my dorm room and picking out the perfect bedding. Boarding has given me some great moments, but if I had to pinpoint a reason why the experience has not been stellar, it would have to be homesickness.
I was in denial at first. Whenever someone would ask me why I was feeling down, I would say that it was because I wasn't used to being here 24/7. They would usually reply with, "Oh, so you are homesick." I would tell myself they just didn't get it, but I can no longer deny the fact that they were right. I miss seeing my family every day, especially my sisters. I miss my dog, Henry, and sleeping in the bed I've been sleeping in for the last six years. I've learned that I am homesick, but I've also learned that being homesick is okay. This message goes out to all the first year boarders, whether this is your first year at Hill or your fourth: being homesick is natural and it's nothing to be ashamed of. I thought being a sixth former and a leader in the school meant that I couldn't or shouldn't miss home so much, but like in all roads to recovery, the first step is admitting you have a problem.
As time goes on, I have full faith that my boarding experience will be great as I adjust and my homesickness fades.  I will still miss my family and my home, but the emotions won't be as intense. The introvert inside me will get used to being around people more than I'm used to, and one of these days I'll leave the comfort of my room and hang out in the student center. I love the school, the teachers, the students, and I can't wait for my good boarding experience to become truly stellar. If you are doubting that you will ever fit in here, please don't give up on your great experience. You will adjust and become comfortable. Embrace your feelings, but please don't just wallow in self-pity. Help yourself! Talk to your friends or take advantage of Hill's amazing support systems, and don't beat yourself up. I am fully confident that you and I, my dear new boarding friends, can truly make Hill our second home and fulfill our highest expectations for ourselves and our experience here.