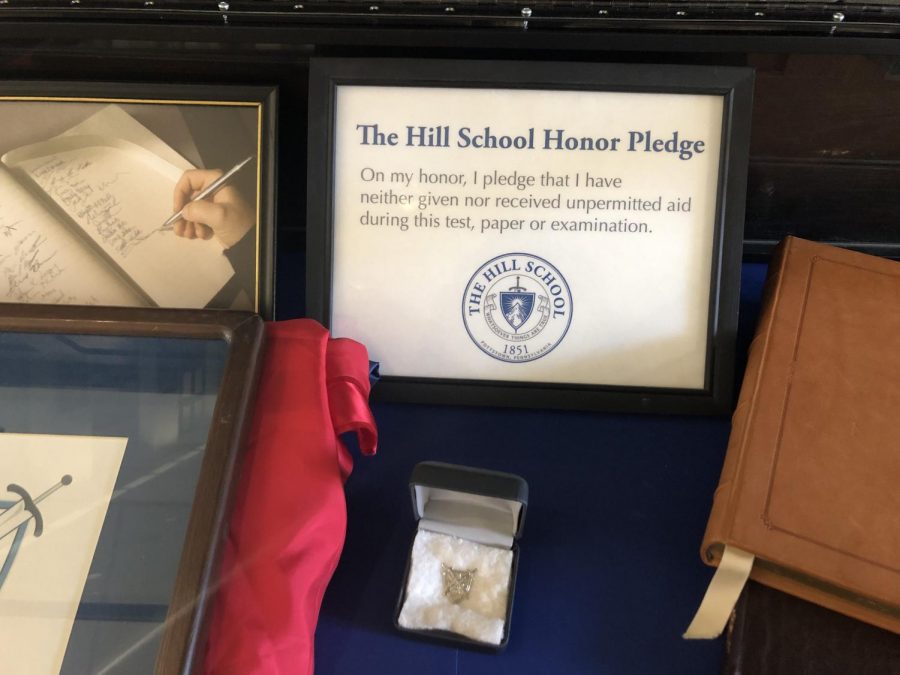 Claire Wang '24
The Honor Code system has been a long tradition at the Hill School, and its origin can be traced back to the school's motto, "Whatsoever Things Are True."  The system was established to promote an environment where students are being honest to themselves, as well as to each other. 
At the beginning of each school year, the Honor Council, including three faculty members, Katherine Erickson, Shannon Zwoyer, and Robert Steinman, and seven elected student representatives, led Hill students through the tenets of the code during the Honor Code signing ceremony. 
Zwoyer, the new faculty adviser of the Honor Council, said that her view on the Honor Code has changed significantly since her time as a Hill student.
"When I was a student, the Honor Code felt unnecessary to me," she said. "After becoming an adult, I realized that the Honor Code was installed into my character. It teaches me to be truthful to myself, and it allows me to have a moral center to live with."
As a newly elected fourth form representative, Sophie Harberson also said that following the Honor Code is up to the individual students. In essence, it requires students to supervise themselves and be honest with other members of the community. Harberson also said that the school holds the signing ceremony every year to help students remember why they are here and what they are doing.
 A new faculty member of the Hill School, Jennifer Pelletier, who teaches history and is the coach of varsity girls squash, said that following the Honor Code means maintaining mutual respect, telling the truth, challenging oneself, and doing one's own work.
 Pelletier said that she used to go to a public high school, and that she believes that it would have been better if they had the Honor Code system. Back then, they were told to follow the rules, but there was never a codified standard for them to  follow.
"The Honor Council is not just a disciplinary group. It's more of a learning process," said Olivia Mofus, the vice president of the Honor Council, who  has been elected as a representative for three years.
 Mofus also said that it is not their responsibility to supervise students to follow the code. "It is something you should care about, and that's your choice to make. You should hold yourself accountable. It's all up to you. We encourage you to follow the code; but overall, it's still your own decision."