Looking into Hill's traditions: The first step on the quest to bring back "Hillness"
The fall air is crisp as The Hill School gears up for another fantastic school year. Over the past month, the community welcomed its members with a sense of energy and spirit. The quest to bring back "Hillness" is a challenge that Hill has faced undaunted, despite many students struggling to understand the true meaning of this concept after a year of such tremendous change. Those who have witnessed Hill in its full glory are anticipatory of a fuller "Hill" experience, each willing to play their role in ensuring the greater good of the community. 
Head of School Zack Lehman P '16 '18 remarked, "As the Head of School, I think I play a major role in reminding students of Hillness: school culture, values, and traditions. Additionally, as a faculty member who has been at the school for 10 years, I think I know a lot of the history and have a major platform for sharing." To support this endeavor, it is important to look back on some significant Hill traditions to be reminded of how they have represented our community throughout time.
Chapel lets Hill see a different side to their peers
Many Hill traditions, such as Chapel, seated meals and the dress code, date back to the school's origins and have been trademark qualities of "The Family Boarding School" for nearly two centuries. At the onset of the school's opening, Headmaster Matthew Meigs implemented religion-based components to the school's operation, such as Chapel. The Alumni Chapel present on Hill's campus today was constructed in 1903 to be a place of reflection and spirituality for students of all religious backgrounds. Since its construction, weekly Chapel Talks have been a part of Hill culture.
When asked about the impact of these congregations, Ellen Nelson P '10 '13 said, "I love some of those speeches that are so courageous and insightful; you just listen to the student, and you feel like you're not alone in your own struggles."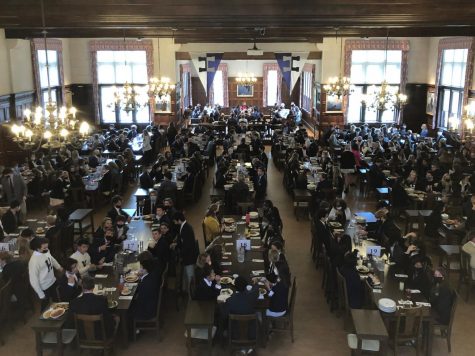 Due to enrollment growth, the entire student body can no longer fit into the Chapel at one time, so 3rd and 4th formers alternate time in the Chapel with a viewing session in the Dining Hall. 
Seated meals bring the community together 
Seated meals are unique to The Hill in that they have remained a part of the culture instead of a buffet-style lunch. With multiple renovations undergone since its initial construction, the Dining Hall has brought together thousands of students and faculty over the course of its time and continues to do so today.  Jay Spencer '84 P '13 '14 '18 '23 reflected on his experiences as both a student and faculty member, explaining that seated meals help "bring the community together. It's challenging as the student and faculty population grows, but it's at least once a day where we all sit down in the same space. As a coach, it's nice to be able to have your team all together, and I have memories of conversations with students that only would have happened because of seated lunch, so I really like that."  
Dress code sets Hill students apart
Formal dress code is an additional aspect of Hill culture that is unique to the community and creates a sense of distinction from other schools. While certain requirements have always been intact, as styles have shifted throughout the centuries the dress code has also adjusted to suit these trends. The implementation of coeducation played a large part in this, as School Archivist Louis Jeffries noted, "I don't think there's ever been a formal tradition for women as to how they are to dress, rather it is something that has evolved over time by the students." One may no longer see the rounded shirt collars of the 1920s; however, the sense of pride in one's appearance is present in the current style culture, he added. 
Many students are in favor of Hill's academic dress too, as it not only emulates a professional environment but also teaches basic life skills. "I appreciate the dress code because it teaches me to dress formally in a business setting, which will be useful in the future," Carmelita Robinson '23 said.   
Spring traditions wrap up the year with fun activities
While acknowledging the original Hill traditions, it is important to pay homage to more recent traditions such as J-Ball and jumping into the Dell. These events date back to the '50s and '80s respectively and are both widely anticipated during the spring term, in that one allows students to experience the competitive amusement of youth, while the other represents the new chapter of young adulthood. 
Traditions-no-more are gone but not forgotten
Many other traditions have been lost over time, such as Thanksgiving feasts, under-form beanies, and planting ivy on buildings at commencement. These customs are each a product of their time and have faded as many current traditions will as well. While looking upon these cultural elements of our community, new and old, may we be reminded of all that they represent and the value they hold for our city on The Hill.
Campus News Editor Carrie Shang '23 and Staff Writer Nimala Sivakumar '23 contributed to this report.
Leave a Comment