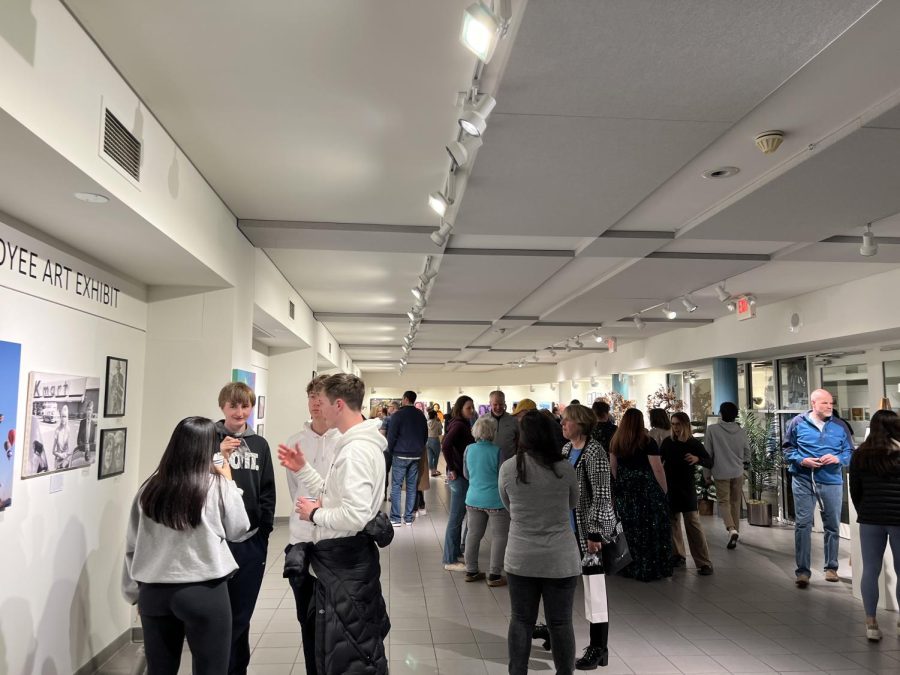 Patrick Gao '25
Crowds of people filled the Boyer Gallery, excited to see the fabric portraits, animal prints, and photographs created by Hill faculty members. There were students and other faculty congratulating the artists, and some interested in purchasing artwork. 
"It was cool, because some of the people in the show have never exhibited before; some of them needed a little encouragement and guidance – and this is what resulted. So I am thrilled, and I'm so happy with the show; it just is something that makes me really smile, because I know that people, you know, have this talent and are able to express their creativity this way," Senior Master of Arts Ellen Nelson said.
The Faculty Art Show, organized by Nelson, was composed of 18 faculty who had a variety of artistic backgrounds and went out of their way to create pieces that made themselves proud. During its premiere on the evening of Friday, April 1, there was lots of support that came from students and other faculty members for the work produced. 
"I contributed 10 photos, as I do photography as a hobby. When I lived in Europe I was able to travel all over the world, so my photos represent those travels," Director of Counseling Lisa Roethling stated in an email. 
Nelson said she believes that everybody is born an artist, and that "we get it beaten out of us that we're not artists." She added, "I feel like everybody can do it. And you just have to kind of find that voice or find that material or that process."
Nelson said that art is the only thing that doesn't have any rules and that you can't fit it into a box. She also said, "Because everything else has rules, and everything has a box. But as soon as you try to put art into a box: Bam! It explodes that box." 
Fourth former Ian Chow said it was great to see how much his classmates showed their support for the show. "Personally, I liked the flower paintings the most," he added.  
Administrative Coordinator and International Family Liaison Helen Qiu stated that she contributed two photographs for the art exhibition. These photographs were taken 10 years ago at a remote mountain area in China. 
"If you look closely at the picture, you will see it's a glass window without the actual glass. And the picture I took was in the north part of China. So you can imagine how the temperature could go below zero, but then the students there were studying in the classroom. There was no glass in the window," Qiu explained.
Qiu added that she was really thrilled to attend the opening and that she appreciated the efforts that Nelson put into the exhibit, which is still on display in the CFTA until May 6. Of the premiere, Qiu said, "I think this is a remarkable event."