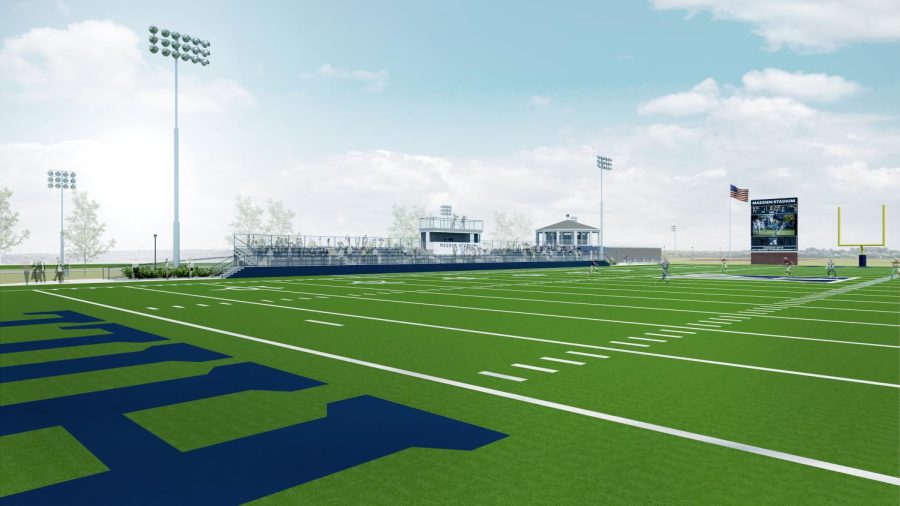 Photo Courtesy of Rich Bouher
Hill students, especially those who have been on campus for four years, know campus like the back of their hand. From the historic Admissions Office, to the traditional classrooms in the Athey Academic Center, to the athletic facilities – all these places have hosted students' favorite memories in the time they've spent here. This summer, a number of predominantly donor-funded construction projects will take place, either renovating buildings or creating entirely new spaces. One project many eagerly await is Madden Stadium at the Far Fields by the Lehrman '56 Pavilion. 
Madden Stadium, named after alumnus Pat Madden '82, is currently slated to host football, lacrosse and field hockey games. According to Head of School Zack Lehman, construction will begin this summer and will end on September 23, which is when Hill will host its first 2022 home football game against Springside-Chestnut Hill.
"We began considering a stadium of this nature approximately two years ago to upgrade our athletics facilities and continue attracting the best student-athletes," Lehman stated in an email. "Pat Madden, Hill School Class of 1982, provided some initial funding to study the feasibility of constructing the stadium on Dell Field or alternate sites."
They first considered Dell Field as a potential location of the stadium, Lehman mentioned, but they decided the JV baseball field and the area between the Lehrman Pavilion and the Far Fields parking lot was more suitable.
Lehman elaborated on Madden Stadium's features, saying it will include "an artificial multi-sport turf field, lights, stadium seating for 700 people, press box, and a state-of-the-art video scoreboard." Lehman mentioned that numerous Hill alumni and parents contributed to the project, including Madden, and they have raised approximately $2.5 million in gifts and pledges to fund construction.
Still, other athletic fields, such as the Dell Field, will continue to hold a special place in many people's hearts. Athletic Director Seth Eilberg echoed this sentiment.  
"Countless unforgettable and historic Hill sports moments happened on Dell Field. And those moments will only be strengthened by the excitement of creating new memories for Hill Football and our other teams in a first-in-class stadium able to accommodate the entire School community," Eilberg stated in an email. "Dell Field will remain part of Hill's celebrated athletics history and a place of victory, as Hill defeated Lawrenceville 10 to 6 on November 6 to end the 2021 football season – the perfect way to close the chapter on this special venue." 
Other athletic facilities, such as Sweeney Gym and the Beech Street Tennis Courts, will also see renovations. Capital Construction Project Manager Rich Bouher spoke to these improvements. Sweeney Gym's renovation includes replacing the roof, refurbishing the windows, finishing the masonry, and opening up the skylight. Construction personnel will also restore the tennis courts, add lighting, and replace the gravel lot with a parking lot at the Beech Street Tennis Courts, when the courts are completed.
More construction projects are also on the docket for this summer. Namely, the Athey Academic Center will undergo a comprehensive remodeling, which includes renovating 30 classrooms and adding new furniture, floors, ceilings, LED lights, HVAC (heating, ventilation, and air conditioning), and 75-inch touch screen monitors. According to Bouher, the inside of the classrooms will loosely resemble the inside of the current Quadrivium classrooms. He said he hopes this will be the beginning of a long-term renovation of the Athey Academic Building.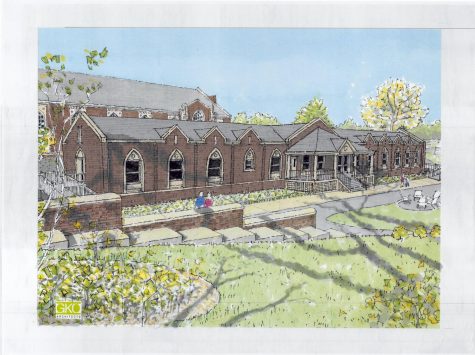 Notably, Dellside Dormitory will receive a makeover as well: a new roof, a brick veneer, a new front porch, a new ceiling, and air conditioning in the hallways. Bouher said the hope is for Dellside to resemble the Athletic Building. But as of now, it is not a permanent dorm, as they hope to use the vacant lot it resides on for other projects in the distant future.
John Giannikas, Hill's director of residential life, stated in an email that Dellside will be called Devy Hall in honor of a 1975 alumni who died young. He further stated that it is a class-funded project for the upcoming 50th reunion of the Class of '75.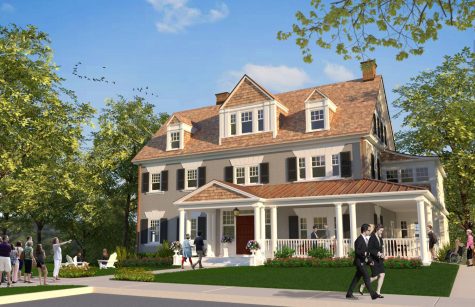 A number of other locations will also receive renovations and improvements, including a remodeling of the Business Office to expand office space, a complete renovation of the Admissions Office, and a renovation of the AV Room in the library to add new 360-degree seating, floors, lights, and added technology. 
There are currently discussions about the expansion of the Alumni Chapel to add a total of 90 additional seats, air conditioning, and toilet facilities. Right now, they are finishing the restoration of the stained glass windows.
Bouher asks that as these projects near completion in the future, students stay out of construction sites and ask for permission if they need access to the restricted areas. "We're going to do everything we can to keep you all safe," he said. 
Lehman explained, "All of our projects are in service to our mission, an enhanced student and faculty experience, and to sustain our campus for future generations."