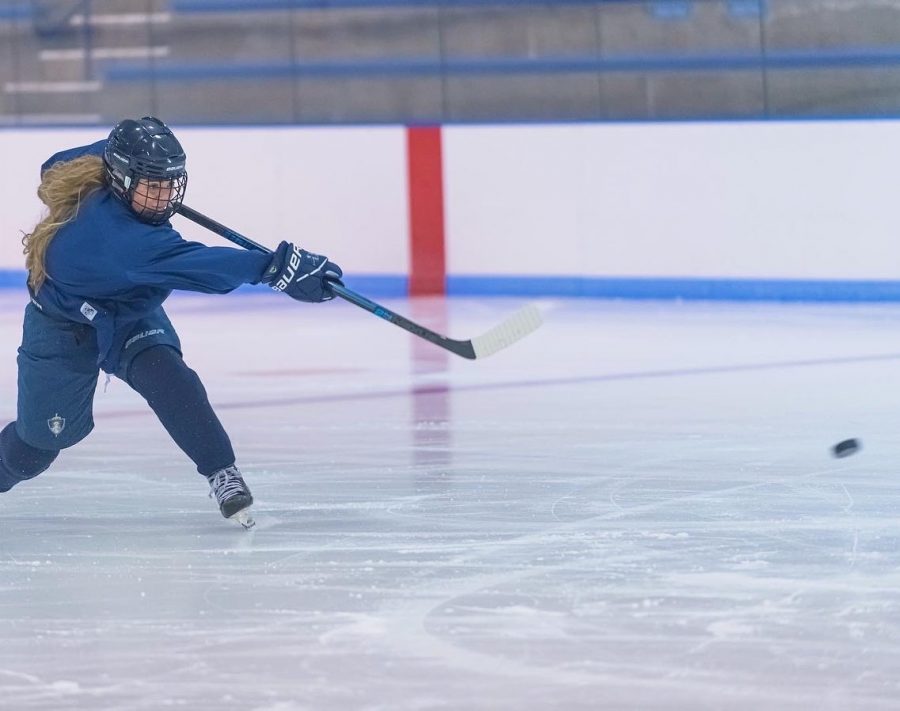 She may be new, but she's certainly no rookie. As Isabelle DiLiberti '21 skates onto the rink, her mind fixes on the ice, and the puck. For the next 2 hours, she and her teammates will skate, shoot and sweat to prepare for the next match.
Originally from San Diego, DiLiberti has been playing ice hockey since she was five years old. While in San Diego, she was often the only girl on the team. However this did not deter her passion for the sport. In 6th grade, her family moved to Belgium where she continued to play hockey, and in her freshman year she joined the French National Team. In 2019, she went on to play for France in the Ice Hockey U18 Women's World Championship, and was recruited to play for Hill by Head Girls Ice Hockey Coach Ari Baum from there.
Before Hill, Isabelle had never gone to a private school, and certainly never imagined herself at a boarding school. She explained that back in Belgium, she attended a public Catholic school that was structured similar to most American public schools. She was not considering other schools in the United States when Baum reached out to her through Instagram and expressed interest. Originally, DiLiberti declined the school's offer, but decided to accept when COVID hit. Now, she does not regret her choice.
Entering Hill as a senior, DiLiberti acclimated to the community quickly. She enjoys getting to see her friends and engage in all of the activities that Hill has to offer. Despite the unusual conditions that the year presents, she finds herself grateful to be in a community with coaches who really care about her not just as a player, but a person. When questioned about this, she mentions a phrase her friend taught her, "Ubuntu," which roughly translates to, "I am, because we are."
"That's really big here, it's just making us all around better athletes, and better students, and better people in general."
When asked about the team dynamic DiLiberti mentioned, "There's a big emphasis on playing 'for' the Hill, not just 'at' the Hill … you play for something greater than yourself." Her coaches share similar thoughts and note how DiLiberti contributes to this dynamic. Assistant Girls Ice Hockey Coach Megan Toomey said, "She's proud to be here, and wants to do everything to make use of the opportunity."
Her other coaches agree, and were happy to elaborate on DiLiberti's position in the team dynamic. When asked how she affects the team's energy, Baum said, "She's incredibly important, especially for a new player. When interacting with her teammates she has a very genuine energy. It's infectious." When asked how hockey has impacted her life, she responded, "It's given me a goal to work for, there are so many skills in hockey that you can translate to life, like how to work with a team."