About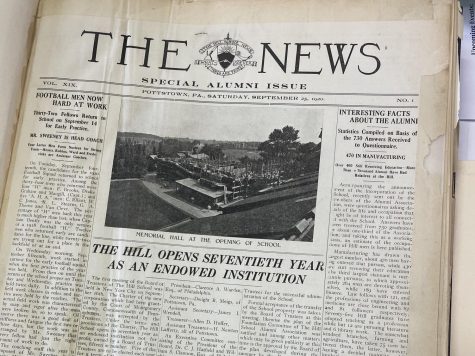 The Hill News is the student-run newspaper of The Hill School. Content is determined by and reflects the views of the student editorial board and staff and not school officials or the School itself. The Hill News acts as an open forum for student expression.
The Hill News' history dates back to 1893, when the school literary magazine, The Record, would double as both a place to publish literary works and school news articles. Topics such as alumni news, short stories and sports would be covered. However, it wasn't until 1902, when the literary magazine and the Hill News split apart, that the school started printing an official newspaper.
By 1920, The Hill News had become a more prominent publication. 
Each issue had grown to cover an extensive range of topics and included over eight pages per issue. The newspaper began to thrive during a time when major campus changes were occurring, such as the building of a memorial hall, and, later on, the library.
Over the years, The Hill News has grown and improved, and, though it has become more modern, it has still kept to its traditional style. A newly designed website has allowed for news articles to be more accessible to all. 
Today, The Hill News is a place for members of the community to learn about campus changes, notable events, student opinions and more. It has been an aspect of Hill almost since the beginning and has been a way for students to communicate and show their creativity. The Hill News serves as a voice for students, and all are invited to contribute.
View our archived Twitter feed here: @the_hill_news
Follow our current Instagram (@hillnews) and Twitter feeds (@TheHillNews1) for the most updated content!
About page written by Diemmy Dang '24 and Ryann Holladay '24 with the help of Hill Archivist Louis Jeffries
The Hill News was awarded second place in the election reporting category of the Best in Show Awards at the fall 2020 National High School Journalism Conference. Click on the icon below to see our coverage!