Teachers encourage Hill students to use their power to vote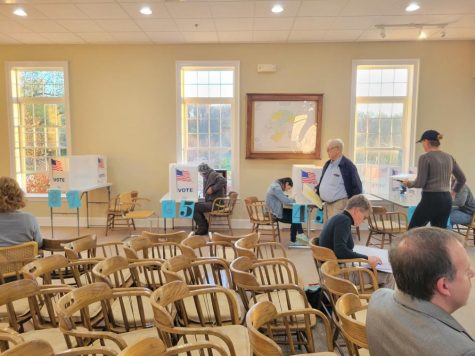 Election day is here, and with election day, comes varied opinions. Our very own faculty and staff have been given the chance to submit their ballots with the extra time provided by buffet lunch and dinner. These same teachers want to communicate to their students the importance of understanding the importance of the power of voting.
Instructor of Mathematics and Science Will Scully is one of many Hill faculty members who is a consistent voter in national and state elections.  He believes that voting is America's way of creating a future that its citizens want to live in.  Voting is a "chance to have some sort of say in shaping the future that you want."
"Decisions are made by people who show up," Scully said.
He went on to explain what influences his vote, explaining that it is important to vote for the candidate "who envisions a future that closely resembles one that you want for yourself or for your kids". He looks for the candidate whom "we can look up to." Scully urges those eligible to vote so that together, voters can create the future that they want to see with a leader that will be an admirable role model.  
Similarly, Daniel McMains, the McNally chair of history and social sciences, also stresses the importance of voting, believing that voting is how citizens contribute to their government. He explained how it is "ultimately the most important part of the way our system work." The United States government is made for the people. If the people do not vote, how is the government meant to exercise its powers so that it "meets the needs of all of the people."
McMains also speaks to what he believes should decide his vote. He "looks for those candidates who are going to ensure that the minorities' needs are still met and protected."  He wants the people who are representing the population to not only care for the majority but also the minority.  
Senior Master Teacher of Mathematics John Dollhopf also consistently votes in elections.
"We live in a republic that requires the participation of its people to be effective," Dollhopf explained.
He went on to say that the ability to vote is a privilege that he and many others have as American citizens, and that it is a privilege he treats very seriously.
Dollhopf was also asked about which topics he felt were important in this election, to which he responded that there are a wide variety of issues one should consider when choosing the candidate for whom to vote.  A few factors mentioned were Supreme Court rulings, particularly on abortion this time around, the economy, and the war currently going on in Ukraine.
Hill teachers have a deep want for the prosperous future of the United States of America; the future starts with the election of each state's representatives.  Teachers urge those eligible to influence their future using their ideals and the needs of their peers.  
Leave a Comment