Instagram tournament crowns Hill's king of rap
With the sun peaking over the horizon, stretching its arms across the desolate sky, one could only just pick out the hooded figure bounding underneath the trees in the early morning light. Grish Vazirani '21 was already well into his day as his rubber soles struck the pavement in perfect stride. A daunting gaze, one that might give the average person a chill down their spine, was barely visible under the maroon hood cloaked over his long black hair. However, as the morning leaned in with an open ear, it could just make out the banter spilling from the lips of his mouth. "I just signed a deal, I'm on. Yeah, yeah, I go where I want, good, good. Play if you want, let's do it (ha), I'm a young CEO, Suge."
Just as Vazirani uses rap music to invigorate his daily grind, athletes and teenagers everywhere use the rap genre as a means to power through their everyday life. The problem is, with so much variety, no one can come to an agreement upon just who is the best. 
Graham Eilberg '22 and Aidan Neiswender '22 shed some light on what makes the rap genre their favorite. 
Eilberg said, "I mostly listen for the beats, and I love the combination of classic instruments like piano combined with electronically produced drum patterns." 
Neiswender relays not only just how long rap has been a focal point of his life, but why he can't stop listening to it. Neiswender says, "My friends and I all grew up listening to it together; and although sometimes it is refreshing to listen to a new genre, I find myself always going back to rap."
In order to answer the question of which rapper is the best, in concurrence with the NCAA basketball championships known as March Madness, Rap Madness was concocted. Featuring a field of 64 well-established competitors,daily Instagram polls determined which rapper would move on and who would be sent home. Through the use of a private poll, Upwards of 400 Hill students and alumni helped determine who would move on each round.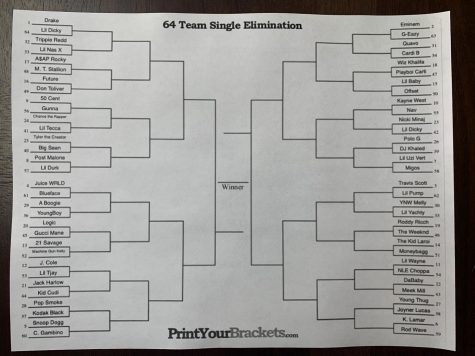 The polls were conducted one round per day, starting on Tuesday, March 30. With a one-day break for Easter implemented after the Final Four, the championship was decided on Monday, April 5.
See the video below for more information about how the Rap Madness tournament came together:
Eilberg, among others, had predictions as to who would come out on top. He said, "Polo G. I love his beats, the melodies present in his songs, and he talks about some real life stuff in some of his songs. 
Neiswender, on the other hand, shared his support for the favorite. He said, "It's basic, but there's no one better than Drake."
Ava Gawronski '22, discussed her favorite picks, as well as some potential pitfalls they may face on their path to the finals. She said, "My favorite rapper is Travis Scott with Kanye West in a close second.  Although neither has released an album recently (despite rumors of upcoming ones), I still always find myself going back to them.  They both create very appealing tunes and have a wide variety to choose from."
Running parallel with the aforementioned college basketball tournament, four regions were conducted, each with a rapper seeded from 1 to 16. In order to make the Final Four, a rapper would have to pull out four consecutive victories and to win it all six.
As March Madness is famous for its Cinderella runs and crazy upsets, Vazirani had some predictions as to who was likely to be put on upset alert. He said, "Whoever is against Dababy. Dababy by far has the best shot of pulling off some unforeseen upsets, 'cause he is cute."
The Round of 64 went by smoothly with only three upsets, and every one and two seeds successfully made it to the second round unscathed. However, one of those three upsets proved to be large. 50 Cent, the top 3 seed in the field, saw his tournament hopes dashed with a loss to No. 14 Gunna.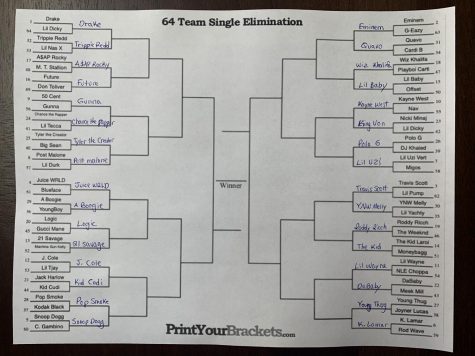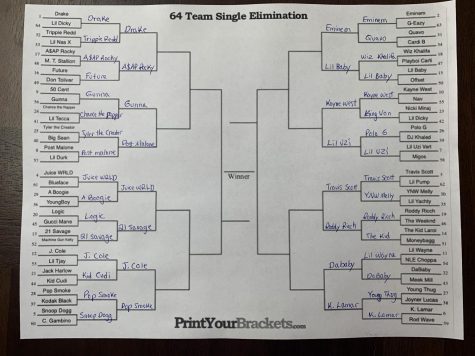 After a crazy first day of action, there was much to unpack. Brandon Guo '23 discussed his thoughts on the day and a controversial opinion heading into the second round. Guo said, "Although my opinions change from time to time, Pop Smoke is surely the best. The beat and the lyrics in his music sets him apart and I can see him causing some trouble in the next round."
Guo's prediction would in fact turn out to be true. Pop Smoke, Gunna, and Dababy all pulled off fearless upsets to qualify themselves for the Sweet 16. As the No. 7 seed, Pop Smoke defeated No. 2 Snoop Dogg in what was the biggest upset of the entire tournament up to that point. Gunna continued his run with a defeat over No. 6 Chance the Rapper, and No. 3 Lil Wayne kissed his hopes goodbye as No. 6 Dababy advanced.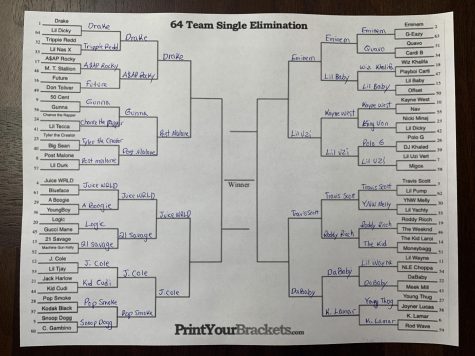 While many of the top competitors mostly enjoyed large margins of victories the first two rounds, the Sweet 16 would prove to be challenging. No. 1 seed Eminem escaped Lil Baby with just a 51-49% margin of victory, while title favorite Lil Uzi Vert squeaked out a win over celebrity Kayne West. Gunna and Pop Smoke's Cinderella runs ended and No. 1 seeds Drake and Travis Scott had no problem advancing.
However, in arguably the craziest matchup of the entire tournament to that point, DaBaby squeaked out a win over No. 2 seed Kendrick Lamar by just two votes. DaBaby came out of the gates hot and jumped out to around a 30-vote lead just a few hours into the day's poll. However, before 10 p.m. EST, Lamar had regained a 10-vote lead. With the poll ending the next morning at 8 a.m., and the low volume nature of night time on the East Coast, it looked grim for DaBaby. But by the end of the poll, DaBaby had squeaked by. 
Vazirani, who had predicted such an unexpected outcome, had something to add. He said, "That ain't the baby; that's my baby. It just means so much to know that he pulled out such a historic victory. I think the DaBaby fans everywhere knew this was coming." 
Eilberg had also felt that a possible upset was on the horizon with both Kendrick Lamar and Snoop Dogg looking vulnerable. He said, "Snoop and Kendrick are not as listened to currently and have a tough path (to the finals) so I believe that they have the best chance to be upset."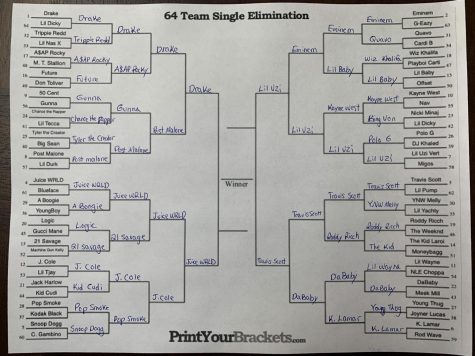 Between rounds, Neiswender had some additional thoughts on the tournament as a whole and his personal favorite to bring home the title. He said, "I think the tournament is a great idea, especially cause we're seeing March Madness right now, and I think basketball and rap music definitely have a correlation. I think Drake can definitely take it home."
The Elite Eight was up to chalk although No. 2 Lil Uzi Vert took down the first No. 1 seed of the entire tournament in Eminem. Although the seeds would suggest otherwise, Uzi was actually considered the favorite in that matchup due to the local nature of his origin in Philly.
Besides Eminem, the result sent home three of the other final eight competitors in Post Malone, J. Cole and DaBaby. Vazirani had one more word on what it meant to see DaBaby go. He said, "It hurts. To be so close yet fall short is definitely heartbreaking. I guess I'll be listening to some Juice WRLD as these lucid dreams just hit different."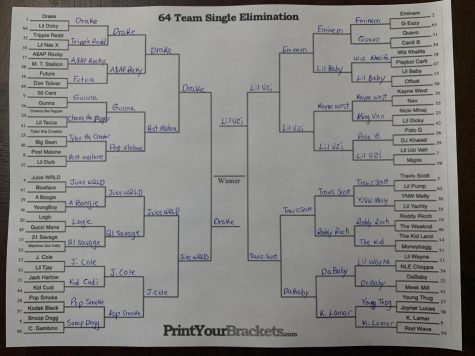 The Final Four saw favorites Drake and Lil Uzi Vert cruise to the final as both rappers shared an equally large margin of victory of more than 50 votes. Juice WRLD and Travis Scott were defeated, respectively.

In the highly anticipated finals matchup between Drake and Lil Uzi Vert, which saw a record turnout of participants, Drake was crowned the first-ever champion of the Rap Madness tournament by a final count of 269-235.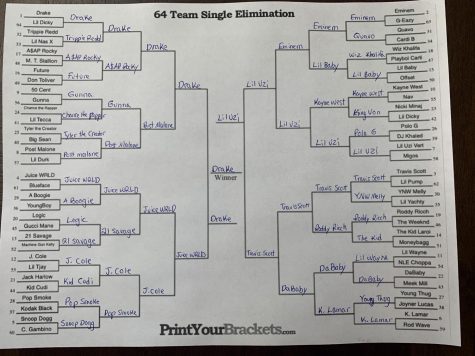 Neiswender commented on what makes Drake such a special talent. He said, "On a musical level, he's the most talented artist I've ever heard because of his ability to make songs to play in the locker room before games and songs you listen to before you sleep. This versatility, along with his voice, flow, and wordplay makes him the best in the game."