@BlackAtHill holds Hill accountable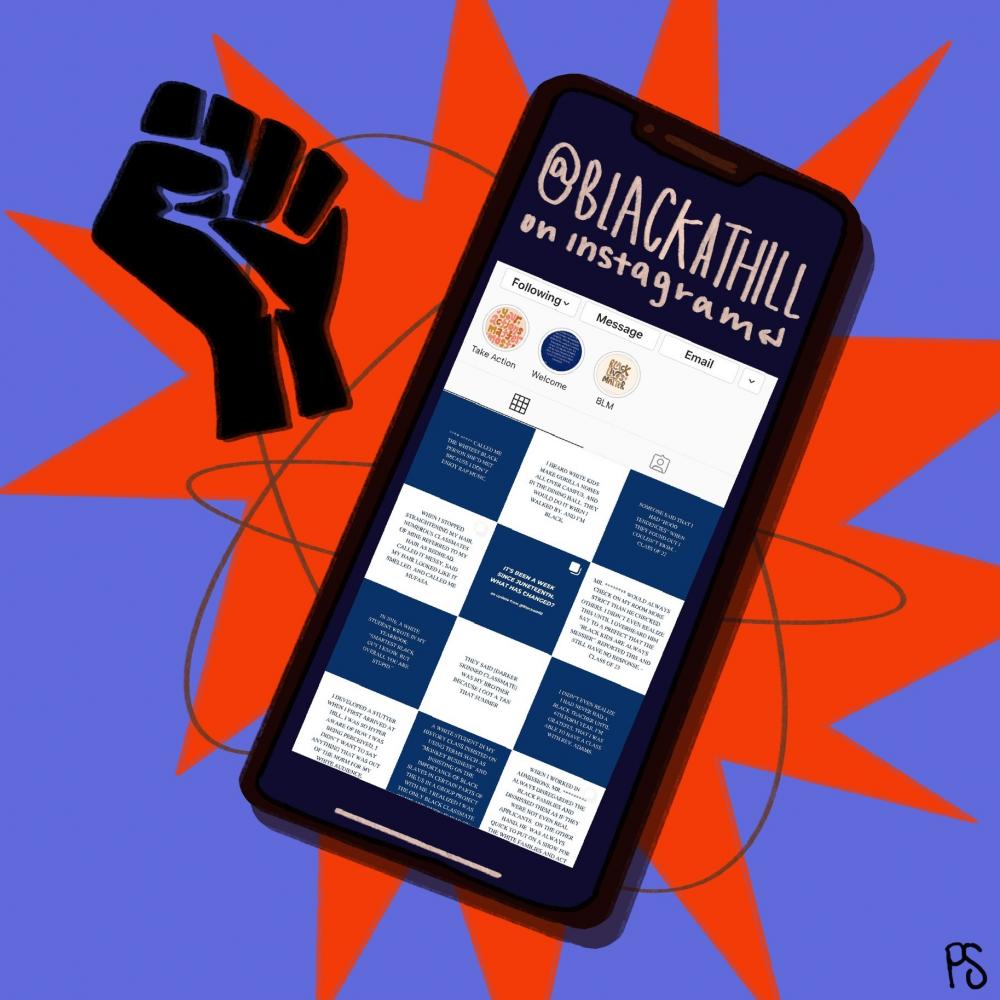 Over the summer, dozens of anonymous submission accounts started appearing on Instagram, showcasing countless first hand stories of racism and microaggressions towards Black students and other community members of color- including alumni and faculty- at predominately white institutions, mainly schools. These "BlackAt…" accounts made national news following the widespread, historic insurgences from supporters of the Black Lives Matter movement after the murder of George Floyd.
BlackAtHill followed suit. Self-described as "an anonymous space for black current students and alumni to share their stories of otherness at Hill," the account first posted on June 9 and shared their first submission the same day. In the weeks following, BlackAtHill broadcast almost 100 testimonials and gained a significant audience of more than 1,300 followers, along with equivalent accounts namely BlackAtLawrenceville, BlackAtTabor, BlackAtBlair, and other high-profile schools and universities from across the country including Andover, Cornell, and Harvard Law.
Riding on the controversy of the untimely posting of "Blue Skies Over Hill" on the official Hill School Instagram account in the midst of national protests, the account garnered the attention of current students and alumni alike. As in many institutions across the country, this public archive of experiences both ignited and incited many Hill community members to call the school to action, both through Instagram comments and emails to the administration and Headmaster's office.
"My first impression of the account was that it was refreshing and stunning," said a graduate of Hill in the 80s who prefers to remain anonymous. However, "I was not surprised to see that nothing has changed."
In one of the most recent posts on the apparently inactive account, a member of the class of 2022 recounts when "someone said that I had 'hood tendencies' when they found out I couldn't swim." While the majority of posts were not credited and remained fully anonymous, by revealing racist and inappropriate encounters at Hill, the account provided a public yet safe space for many to share their experience with outsiders, in and out of the Hill community.
"I believe it was powerful not just for the administration but for every Black person that has attended the Hill school. That accumulation of all the testimonies from decades of Black students is a testimony that Hill has done virtually nothing to teach people how to be actively anti-racist and has not taken racism at the school very seriously," said Sarah Gbabedo '19, the founder of Black Girls Gather and the Women of Color Association at Hill and a current student at Wesleyan University.
While at Hill, Gbadebo worked closely with now-Interim Director of Inclusion and Diversity Rev. Khristi Adams.
"I felt that it was an honest expression of students (current and previous) accounts and real emotion about what they experienced at Hill," said Adams. She also added that it was "unfortunate," mentioning that she went through similar experiences at Predominately White Institutions (PWIs).
In an open letter to the Hill School on Juneteenth (a holiday celebrating the liberation of enslaved peoples in the United States), the still-anonymous owners of the account enumerated specific points of action for the school to take, from acknowledging the institutional "anti-Blackness," and the "trauma that has been inflicted towards Black students." The official Hill School account released a statement of their own, calling its audience to "reflect on the meaning of the word freedom," and "be mindful of the hard work that lies ahead."
Previous statements had been released, mainly through social media and email chains, from amending the initial "Blue Skies" caption (the post of which had already attracted hundreds of comments), a quote from Dr. Martin Luther King Jr, a black square in solidarity with the "#BlackOutTuesday Instagram campaign, and ultimately a post acknowledging the "historical criticism" and that Hill is committed to "listening and learning" from community members.
However, some community members were still unsatisfied with the statement and Hill's wider reaction to the account.
"I was really frustrated when Hill said that the events were historical. These are students that attend your school and that have attended less than five years ago. I was at Hill a year ago and to say that my experience is 'historical' is one, very very disrespectful and two, shows that you're not taking accountability," Gbadebo said.
While there have been tangible changes and updates made by the administration- including a new and improved Diversity, Equity, and Inclusion Committee, the addition of relevant literature to the summer curriculum, and a Black alumni affinity group (galvanized by the alumni themselves)- as well as a letter from Headmaster Zack Lehman, a general statement from the school, and a commitment to hire a full-time dedicated Director of Diversity and Inclusion, the alumni have been a significant voice in calling Hill out for previous inaction.
"Given the recent events in our country, finding spaces where the Hill Black community can be seen, heard, and empowered is very important to the Alumni Association. For this reason, we held forums and took steps to establish a Hill Black Affiliate Group. The Hill School is committed to creating an inclusive and equitable community," said Shelley Baumgarten, the director of alumni and parent engagement.
Along with alumni, experiences of current students- self-identified on the account by their class years alone- were made public on the account.
"I feel profound shame that they didn't previously have the courage to do that because it's our job as educators and community members to make sure they have that venue, that comfort, both as a school and as a society. We have a lot of work to do. We have been fortunate to do some of that work this summer but we will not be done until nobody feels like they have to hold up a sign or post on Instagram to be heard," said Dean of Students Ari Baum.
The Dean's Office and Baum himself specifically have made strides to improve Hill's Diversity, Equity, and Inclusion, most notably revising the school's hate speech policy.
"We've made significant improvements to policies and our policies have been pretty strong, but policies and living are two very different things." Baum noted that while the account was "powerful" and "potent," the long term effects are yet to be seen and realized.
When asked about his wish for the current Hill community, the previously quoted alumnus said, "My hope for the faculty and students is that they create a space for acceptance, not tolerance. I am Black and you must accept my history. If one is to become a part of the success at the school and helping students become better people, they will need to start there at the acceptance of cultural diversity."
Elizabeth Liang Hudak '21, Co-Editor-In-Chief
Elizabeth Hudak is a 6th former from Hilton Head Island, SC. She like to eat.