Food drive helps local families in Pottstown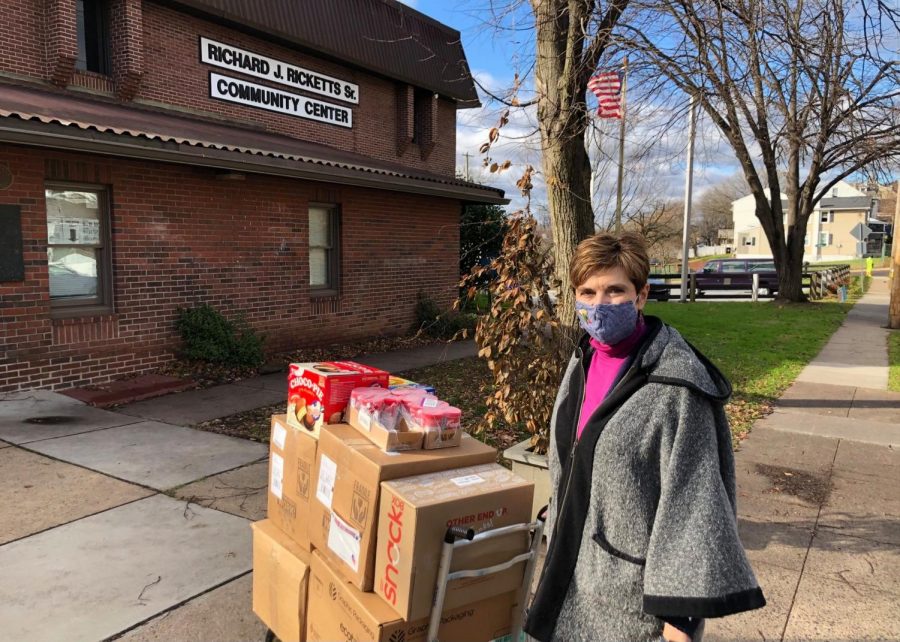 On the morning of Nov. 23, Director of Hobart's Run Communications and Senior Director of Media Relations Cathy Skitko and her husband, Andrew Skitko, drove a truckload of food to Ricketts Center for the Center's weekly food distribution.
Throughout that week, students, faculty, and staff at The Hill had been donating unopened food items by placing them in designated bins in the Campus Store and the Dining Hall.
The food drive, which was started by Sodexo and Hobart's Run, collected four large boxes of food items that were distributed to local families in Pottstown.
"Food drives benefit many families in Pottstown," Sodexo Contractor Irene Daddario said. "Approximately 18.8% of families in Pottstown live at or below the poverty level and depend on community food drives to help to feed their families."
"We promoted the food drive in the campus store by offering 25% off all Hill logo clothing and merchandise with any nonperishable food donation. Students were very excited to donate to the cause," Daddario said.
People who had nothing to give were able to participate by buying food in the Campus Store to donate. Some dorm parents also collected food from students directly in their dorms.
"Every year Sodexo partners with local communities to get donations and distribute them to the area that they work in," Sodexo Contractor Lisa Demetrio said. In past years, Sodexo and Hobart's Run have also donated to TriCounty Active Adult Center, an organization that benefits local senior citizens.
"I think it is very important for our community to help out locally by supporting our local business and supporting local charities," Demetrio said. "I have always been involved with charity work from raising money for Alex's Lemonade and volunteering at Philabundance, Sunshine Foundation, and many more."
Community outreach is especially important amidst the COVID-19 pandemic. Food insecurity and the hunger crisis have been severely impacted by the virus.
"Many people do not realize that hunger affects so many communities," Daddario said. "With the help of institutions like the Hill, food drives can help to raise awareness of hunger in their community."
Hobart's Run's initiatives are far from over. Currently, they are doing a drive to collect essential items for homeless citizens of Pottstown. These items, such as Bivy sacks, wool socks, warm fleece hats and gloves, snacks, and more, will be provided to the Pottstown Police Department for distribution to the homeless as they are encountered by officers.
Skitko also is encouraging Hill employees to donate nonperishable food items to a food drive sponsored by the Pottstown Borough Council. These donations can be placed at any of the Pottstown firehouses; they then will be taken to the "Santa Shack" in downtown Pottstown. Borough Council's goal is to fill the shack from floor to ceiling with food. The food will then be delivered to the Pottstown Cluster of Religious Communities for their food pantry.
"Part of Hobart's Run's mission is to foster inclusivity in the Borough of Pottstown," Skitko said. "We strive to consider the needs of all members of our community and embrace opportunities to provide resources to those residents who may need support in some form. Homeless residents and those facing food insecurity are members of our greater Pottstown home. We want to do what we can to help them."