Hill students come back as intern teachers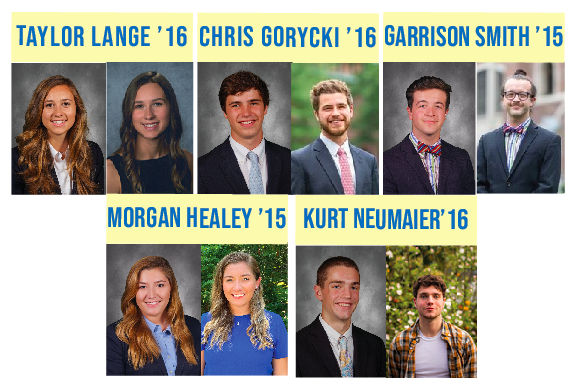 This year, Hill welcomed five new teacher trainees from the classes of 2015 and 2016: Chris Gorycki '16, Morgan Healey '15, Taylor Lange '16, Kurt Neumaier '16, and Garrison Smith '15.
"With all of the requirements that we have to be attentive to this year, such as furniture, more classes, fewer numbers, as well as a dismal job outlook for recent college graduates, we felt like we could get our needs met while bringing back some great people to get work experience and exposure to the boarding school world while fulfilling a real need academically, athletically, spatially, etc. They've helped in literally every aspect," said Academic Dean Katy Hudak.
Gorycki is involved in the Residential Life Office and helps with the weekend activities. Healey is working as a psychology trainee and is a teaching assistant in AP Psychology as well as working with the Eudemonia program. Lange is a teaching assistant in computer science classes and is also working in the IT department. Smith is working in the art department and the theatre program, and Neumaier is taking over George W. Perkins Instructor of History Shannon Zwoyer's classes while she is on maternity leave through the fall.
All trainees are interested in pursuing a career in the area of their Hill appointment. Lange is enrolled in a master's program and would like to work in the tech industry for some time before becoming an educator, while Healey is currently involved in a graduate program. Smith, Neumaier and Gorycki have all expressed interest in working in the education field in some capacity.
"Any way to get involved in education is my focus, and Hill has been great," said Gorycki.
A common aspect of each of the trainees' motives for returning to Hill has been to be a part of the community. All five trainees expressed appreciation for the meaningful bonds being formed with Hill students.
"Interacting with the students makes me feel the most fulfilled, actually forming a relationship with the students makes me feel useful," Healey said.
All trainees have been able to experience Hill through a different lens as faculty members, now being able to take on the role of mentoring rather than being mentored. As of now, all five alumni are happy to be back a part of the Hill community as faculty members. Mr. Neumaier said, "The people here are pretty incredible, the teachers and the students."
Profiles:
Taylor Lange:
Favorite Memory: My favorite memory from Hill was the L'Ville Pep Rally my senior year. I was one of the lucky few who got to light the bonfire that year, and it was just such an amazing experience.
Most Excited For: As for what I am excited about when it comes to Hill, I am really excited to see the STEM programs take off with the addition of the Shirley Quadrivium Center, and I am excited to get to know more of the students I see on campus every day.
Gorycki:
Favorite memory: The first-ever preseason for the crew team in Philadelphia was a thrill. This was back when we were just forming the team and only had a few members with even fewer accompanying us on the trip. We had ourselves a time.
Most excited for: I am excited to see where the new and progressive changes the school is making will take our community.
Garrison Smith:
Memory: I don't have one memory in particular that sticks out. I just had my highs and lows concurrently? Sorry if that's wildly unhelpful.
Excited for: I'm excited to continue to get involved as the year is still unfolding. I hope we will get to stay safe and on campus for as long as we are able to so we can get the most from our time together on campus.
Morgan Healey:
Memory: I have a lot of really great memories, but I think the very beginning of the school year was always my favorite. Coming back to Hill after a summer away from my friends and getting to live with them again and participate in all the opening of school events was just always a great time.
Excited for: I am excited to see how different events are going to be executed in the era of COVID. L-Ville weekend of course is one of the best events of the year and I am interested to see how we do that this year. I also love the Halloween seated dinner and the different dances that we used to have. I am confident that Hill is going to make everything just as fun as it always is, but it is exciting to think about what creative solutions we are going to come up with!
Kurt Neumaier:
Memory: My favorite memory is just me and all my best friends sitting in my friend Raymond's room, playing video games, talking, and laughing.
Excited for: I'm excited about getting to be in charge of my own classroom! It's super scary, but I'm already having so much fun, and I love the opportunity to, hopefully, make an impact in someone's life.