Hill community embraces the start of 2023 with warm Lunar New Year celebrations
Sparklers danced and twinkled on the cold January night, putting a red light on the faces of Hill community members. The air was filled with warm breaths and brisk waves of laughter. As you walk up the library steps, the fragrant scent of ink teases your nostrils… This was just the beginning of the 2023 Hill community Lunar New Year celebration.
Lunar New Year, also known as the Spring Festival, is a major holiday that many east Asian countries celebrate. This is the time when families get together, practice customs and traditions, pray for good fortune, and celebrate the beginning of a new lunar calendar. It is significant to many of the Asian descendants in the Hill community.
On Friday, Jan 20, Assistant Director of International and DEI Programs Helen Qiu and fellow international ambassadors planned a Lunar New Year celebration in the McNally room. All community members are welcome to the event. "I want students who celebrate the Lunar New Year to feel the warmth and care of the school. I want to ensure that they know that their homesickness is valid and supported. For community members who do not celebrate the lunar new year, my wish is for them to learn about and appreciate other widely celebrated holidays from their peers," Qiu said.
Qiu and international ambassadors tried to come up with activities in the most authentic yet innovative ways so students who celebrate could feel the warmth of their home, and other community members can engage in the celebration. 
Among the activities, Chinese calligraphy is especially popular. In the Chinese culture, people write down "福", which means fortune, on red paper during the lunar new year, and hang the paper upside down. In Mandarin, "upside down" has the same pronunciation as "coming", so hanging the paper upside down means "fortune is coming". During the Lunar New Year celebration in the McNally room, community members were given red paper and some traditional Chinese words to recreate. You could also use your creativity to do something on your own.  "I really liked the calligraphy thing where we did the cursive on paper. I didn't know anything about it, [but] it was really interesting learning about other cultures," Katie Torr '25 said.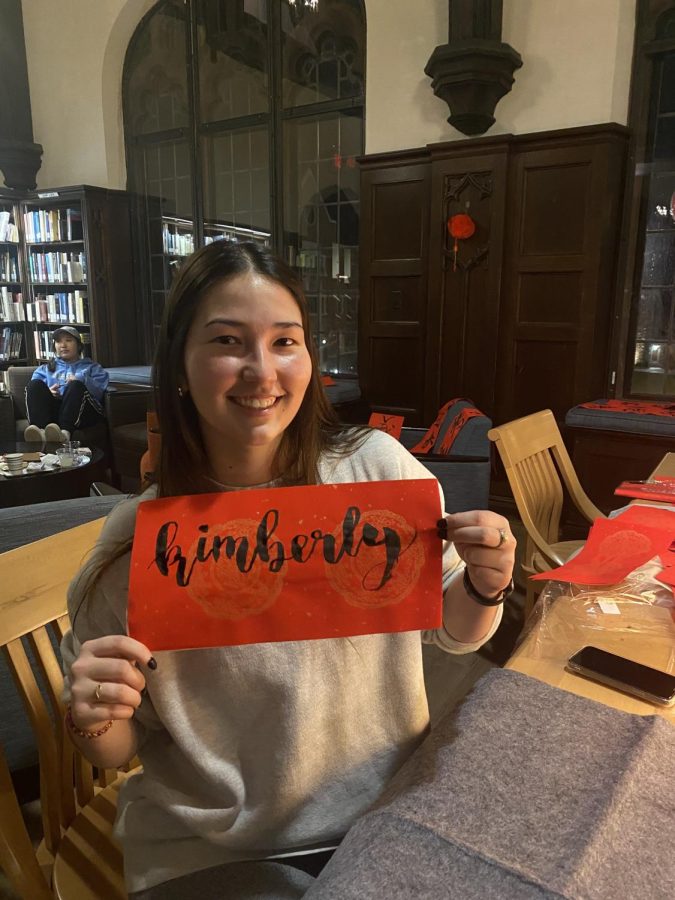 Another big attraction is the variety of Asian snacks. After trying out the calligraphy, you could shift your gaze to the table of wonderful snacks and candy. You had an array of different food to choose from ranging from a savory rice cracker to a sweet, milky candy called 'White Rabbit'. Third former Avery Cohen said, "I tried some of the milk candies and I really liked them." Cohen was glad to participate in the event as she learned new things about the lunar new year celebration and culture.
Another big tradition for the lunar new year celebration is gifting red packets. Normally, red packets are filled with small amounts of money and are presented as gifts to children, family members, and friends. Red packets symbolize good luck and receiving one is a sign of a gift giver's love and well wishes. International ambassador Nicole Kwan '24 had the brilliant idea to replace money with thank you notes inside the red packets. To show your gratitude, you can write a thank you note and send it to someone you care about in the red packet.  "We are a community that always values the culture of showing appreciation," Qiu commented. The red packets helped community members spread love across the campus and reminded us that a simple thank-you note could go a long way. 
"I thought the event was a great success. Everyone came together and celebrated the year of the rabbit. It is important to highlight various traditions and tastes of the festival, and for everyone to have a good time," Eddie Li '23, a 2-year international ambassador, concluded.
Leave a Comment