Hill Sodexo Staff dishes out Love
Every morning when the birds are still asleep, Hill Dining Hall worker Tanya Johnson is getting ready to cook breakfast for the entire community. At 5:30 a.m., on the dot, Johnson clocks in, changes into her working suit, puts on her favorite 50 Cent and dances her way into the kitchen. This is the beginning of a day in the life of a Sodexo worker.
Sodexo is a food services and facilities management company that partners with the Hill dining Hall to serve community members. Johnson is one of the veteran Sodexo workers at the Hill School. She has been serving the Hill community for over 25 years: from the Grille to the back kitchen, morning shift to night shift – Johnson has done it all. "I have only been late twice in my 25 years here, overslept," Johnson said proudly, face full of smiles.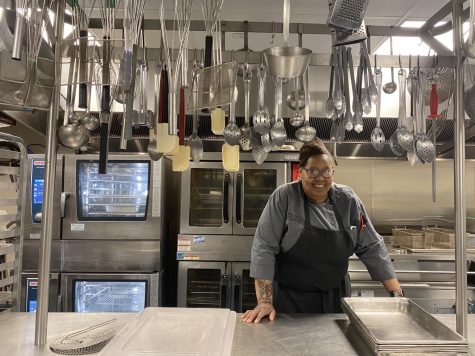 "I want to be that first person who comes in, because it's always hard to find somebody who's willing to come in this early in the morning," Johnson said. She explained that she has been doing this for a long time and that she doesn't want to put other workers in this hard position. "I know I can bear it, and I enjoy having the kitchen all by myself in the morning," she shared.
Through years of working under multiple experienced executive chefs, Johnson has accumulated and learned much cooking knowledge. She loves making soups, and she tries to make them appealing and taste good. "I didn't go to culinary school, but I have experiences that other people don't have throughout my years," she said. 
Morning shift supervisor Jill Hanley is another 25-year veteran worker at the Hill. She started working in the Dining Hall when the school was still an all-boys school. "I witnessed a lot of changes here since I started. It's just like my second family here honestly. A lot of us have been here for over 25 years. I just love what I do," she said.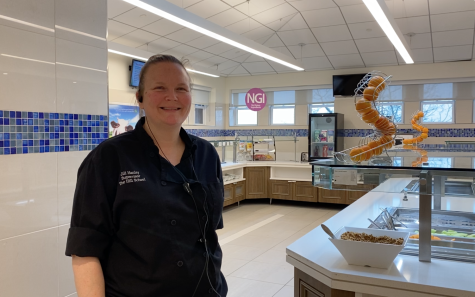 For full-time workers like Hanley, balancing work and family time is just as important as serving the community. "I have four kids, so I'm a full-time mom too. I'm here from 6:00 to 2:30 every day, and I go home, cook dinner and do all that stuff and hang out with my kids also," she shared. 
Besides working in the Dining Hall, Sodexo staffs also have a lot of other hobbies. Supervisor Jesse Batdorf is currently writing a book about Italian history. "It's based on the Italian Renaissance. I'm not actually Italian, but something about it just makes me love their history," Batdorf said. His book features lives in Venice and its architectural styles.
Both Johnson and Hanley commended the close relationship that the Hill Sodexo team has. "I love everyone I work with. Honestly, if I didn't have the people that worked with me, I wouldn't be who I am today," Hanley said. The back kitchen is often filled with music, laughter, and a lot of talking. As Johnson would say, "We are a big family, and we have loads of fun at work."
Sodexo workers like Johnson and Hanley enjoy talking to students. Johnson shared, "When I was at the Grille, I got to see everybody; I got to know so many kids and their backgrounds, where they were from, and it was really fun."
Staff writer Kade Davidheiser '23 contributed to this article.
Leave a Comment