Hill students celebrate Martin Luther King Jr. Day through Zoom events
Yesterday was the 35th Martin Luther King Jr. Day, the first celebration being on Jan. 20, 1986. The day officially became a national day of service in 1994 after its congressional approval.
Usually, the school gathers together in a day off classes to reflect on King's impact through events such as speakers, movie screenings, panels, and group discussions. This year, as indicated in an email sent out by Firestone Endowment Chaplain and Interim Director of Diversity and Inclusion Rev. Khristi Adams, the events were virtual, consisting of optional but recommended events such as a celebratory breakfast, programming at the African American History Museum in Philadelphia, reading students' papers, and more opportunities.
"It could've been easy to have nothing, but with all these virtual events we could still celebrate the memory of Dr. Martin Luther King!" Adams said.
The virtual format didn't stop many people from still celebrating.
One event that seemed to interest many was the MLK breakfast event. This event showcased important speakers such as Andrew Young and Bernice King, the youngest daughter of MLK.
"I have actually crossed paths with Bernice. She's a great speaker," said Adams.
At 10 AM, the MLK Weekend Morning Program was presented by the African American Museum in Philadelphia over Zoom.
Over 100 people present, those in the audience included parents with their children, young elementary school students, adults, and Hill's own Nimala Sivakumar '23, Anna Guo '22, Gabriela Henao '22, and Sarah Kenvin '23. The Morning Program began with watching Carlo Campbell read the famous "I Have a Dream" speech. Ne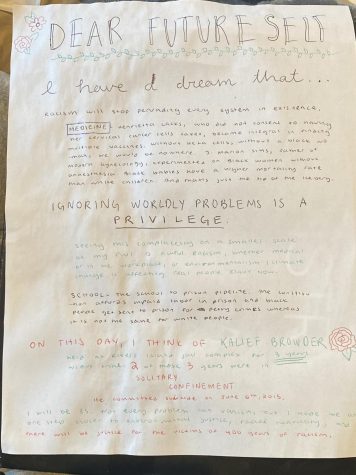 xt, audience members created their own "I Have a Dream" papers, writing to their future selves about their dreams. With each person's dreams on display, one woman said her dream was to stop the violence. "It's upsetting waking up every day hearing about someone you know or have a connection to was shot, killed, bullied, or hurt. People are losing their lives and it isn't cool."
SGA Co-President and Diversity, Equity, and Inclusion leader Andrew Chirieleison '21 accredits the experience to giving him a better understanding of racial bias and prejudice as students begin to be more compassionate to each other
"With the help of Dr. Martin Luther King and over time, the world, the Hill became what it is today. Hill probably wouldn't have been the same 60 years ago," said Chirieleison. "I was fortunate to lead and educate my group and even I was able to learn a lot. Students from all over come together and learn about each other. This positively impacted our community and students were willing to have conversations we normally don't have."
"Carlo Campbell delivered the speech so well with so much passion, it was beautiful to watch," Sivakumar said.
"Attending events like this is so important because the way MLK is taught in schools isn't the same as who he truly was. They teach it as he had a disagreement with the government, he and the government finally agreed, and then he was assassinated. Does a leader really have to be killed for their point to finally be made?" Sivakumar asks. Schools fail to teach how the police beat him up and how he was imprisoned multiple times. It's great to hear from real people his true story and not what they just tell us in school for a day. I wish more students would have attended and shown their care for today. Many think Civil Rights ended racism, but unfortunately, that isn't the case. It still happens today. That's why it is important for students and even adults to learn and attend events like this."
Sivakumar suggested that Hill should do a similar workshop activity as we did on the Zoom where each person shares what their future dream is.
"We need to find some sort of common ground here at Hill as there seems to be a lot of tension. MLK wanted equality for all, not for some. We need to continue treating each other with high respect," Sivakumar said.