Hill's frontline workers receive the first dose of the COVID-19 vaccine as winter athletes return to campus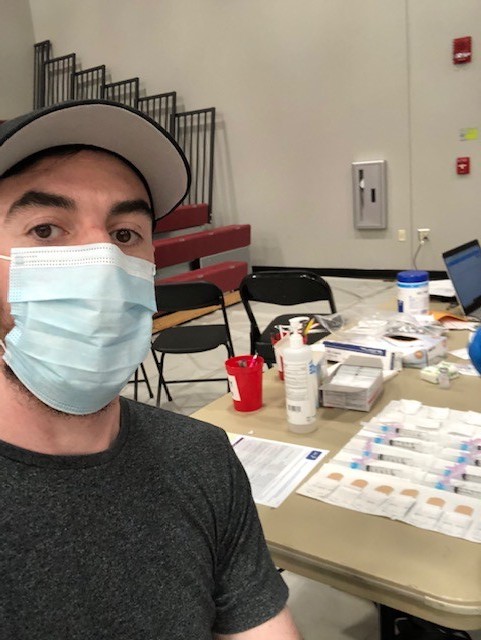 On Thursday, Jan. 7 two of Hill's staff members got their first dose of the COVID-19 vaccine. Jennifer Murphy, a medical chaperone, and Dr. Kristin Spencer, the medical director, received their first shot of the Moderna vaccine. Both staff members play a significant role in the Hill community, especially with winter varsity athletes returning as early as Friday, Jan. 8.
Their vaccination took place at Montgomery County Community College in Blue Bell, Pa. According to Murphy, "Registration and sign-ups all took place online." She also wrote: "The process was great, and everyone was super helpful." After she received the vaccine, out of precaution and protocol, she was asked to sit for 15 minutes to make sure she didn't have an adverse reaction.
Dr. Spencer clarified how to qualify for the vaccine on Hill's campus. She wrote: "Healthcare providers are part of Pennsylvania's Phase 1A for vaccine roll-out, which is going on now. One needs to be a healthcare provider (or resident/employee of a long-term care facility, like a nursing home) for this first phase."
Dr. Spencer wrote, "We are in the process of getting all of our Hill health care teams vaccinated—Wellness Center staff, Athletic Trainers, and Counselors" and, as of right now, "several nurses, counselors, and trainers have been vaccinated. Several more have appointments tomorrow or next week."
Murphy gave her insight on what the athletic training rooms might look like now as a result of more faculty members getting vaccinated. "We will all continue to wear our masks, wash our hands and equipment thoroughly, and keep physically distanced when possible." She continued: "It is a small, but very important step in building immunity and slowing the spread of COVID-19."
Hill's Associate Director of Athletics, Mo Gaitan wrote, "As we begin to welcome student-athletes for the Winter low-residency program, and schedule for a full spring, having our medical professionals receive the vaccine is a critical step. Our department is optimistic that we are trending in the right direction to provide athletic opportunities for our students for the remainder of the school year."
Some other staff members within our medical staff and athletic department are still waiting to get vaccinated; however, Murphy told The Hill News her second and final dose will take place on Feb. 1, and Dr. Spencer said she is scheduled to receive hers on Feb. 4. According to Dr. Spencer, "Teachers have not yet been offered vaccination—they will be vaccinated in Phase 1B."
Murphy's final thoughts were, "When you have the opportunity to receive your vaccination, do it! This is one step towards a sense of normalcy. Continue to wear your mask, wash your hands, and be physically distanced. You are not only taking care of yourself but everyone else as well."