Managers game to please: Students support winter athletics behind the scenes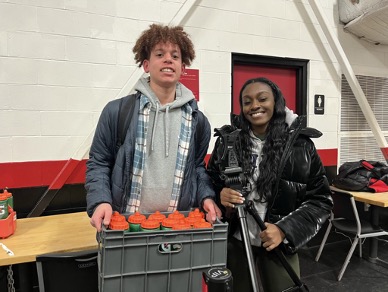 With winter athletics in full swing, players and coaches are working hard in hopes of achieving a successful season. However, success does not come without the support of their student managers. From the court to the rink, managers take on the responsibility of supporting their respective teams in more ways than one.
Managers are an essential part of a smoothly functioning team and perform a multitude of different tasks on a day to day basis. Pierce Hart '23, one of three varsity boys ice hockey managers, enjoys every aspect of his role. "I film games, sharpen skates, fill out the score sheet, play music, set up the locker room, and more," he said. "Some weekends I travel all over the area to help with away games which is a job in itself. I really enjoy it though, even when it's a lot of commitment."
The blossoming relationships between managers and players is a major factor of Hart's return to the team his senior year. Hart said, "I decided to manage both my junior and senior year because I've grown really close with the players through my role, and have made memories with the team I will never forget." Jheanelle Robinson '23, manager of the varsity boys basketball team, claimed "It is a fun job and everyone on the team is extremely nice, I'm really glad I made the decision to do it." The players appreciate the help of managers and enjoy their additions to the team. "The managers are super helpful, and we always can count on them to support us. Jaelen and Jheanelle are both awesome," Liam Barney '24, a varsity basketball player, said.
Jaelen Toole '25, volunteered to manage the varsity boys basketball team not only because of his friendship with the athletes, but also to focus on his recovery from his injury. "Being the manager for basketball has allowed me to contribute to a great program while also recovering from an injury I received this past year," Toole says.
As much as athletes rely on their managers, team coaches need just as much. Varsity basketball girls coach Ernest Higginbotham has appreciated their managers Emile Kirschner '23 and Anna Tabarrini '23. "They do all the little things behind the scenes that allow the athletes to be able to just focus on basketball," Higginbotham noted about his managers. "The managers have been a great addition to the team because of their commitment to help the team."
The Hill School athletic success dates back to the 19th century. Nearly every black and white team picture found in the halls of the Hill School's athletic facility will feature a team manager alongside the athletes and coaches. From MAPL Championships to National Champions, Hill's student managers have aided their teams success for decades. This winter athletic season featured a wide range of student managers carrying the load for all athletic teams and athletes and coaches could not be more pleased.
"Without our managers our lives as athletes would be much more difficult. They make our jobs worry free," said Barney '24.
Leave a Comment