Bryan Stevenson is on a mission for equal justice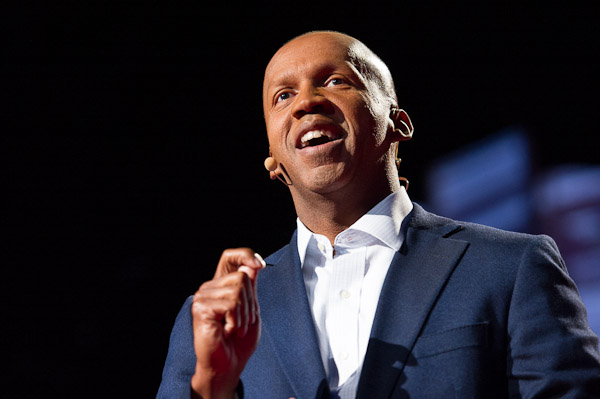 Bryan Stevenson believes the American legal system treats "you better if you're rich and guilty than if you're poor and innocent." An inspiring lawyer who has dedicated his entire life to defending people who are poor, incarcerated or condemned, Stevenson has spent more than 30 years of his life, helping innocent people of color escape from death row. 
The case of Walter McMillian is one of many examples that exemplifies Stevenson's work with the nonprofit Equal Justice Initiative. The movie "Just Mercy," which details the McMillian case, was shown to all members of The Hill School on MLK day.
Danielle DeZart, a 4th form student, shared her insights after watching the movie: "I think the movie was really enlightening, and I also think it was important to be shown. A lot of institutions picked and chose what they wanted to tell about Black history. I feel like this movie was very raw and enlightened people in many different ways." 
Stevenson grew up in a poor community in Delaware and went to a segregated school. Later, Brown V Board of Education, one of the most significant unanimous decisions the U.S. Supreme Court has made, stated that racially segregated schools are inherently unequal, henceforth they are unconstitutional. Dedicated to his studies, Stevenson was able to attend high school and then Harvard Law. Otherwise, he would probably have ended up like his father, with only a middle school education (because that was the extent of colored school education provided by the county at that time).
During his time at law school, Stevenson felt a sense of estrangement and was ashamed by his background while attending. The turning point, however, was when he went to work with the Southern Prisoners Defense Committee in Georgia. He saw "people on death row and the struggle made manifest," Stevenson stated in the documentary "True Justice" – the experience motivated him to advocate for the rights of people of color through litigation. 
Through all the years he has worked as an attorney, Stevenson perceived that the court was the only way to defend minorities and the unfavored as the entire legal system was prejudiced and filled with white supremacy. In 1995, he founded EJI, "a private, nonprofit organization that provides legal representation to people who have been illegally convicted, unfairly sentenced, or abused in state jails and prisons."
Envisioning the broader picture of the nation, Nicolas Malinak, history teacher and head of Hill's forensics team, commented, "I think it's sad that we need people to be going in because they see the need – and justice might not exist without them. And they have to put in all of this effort working around the margins as opposed to us having a judicial system that does actually work." 
Leave a Comment