Brazil is likely to triumph in the 2022 FIFA World Cup
The World Cup is the ultimate festival for all football fans around the world. It is held every four years, and multiple stars have been made in the beautiful game. The World Cup will be held in Qatar this year, and it will kick off on Nov. 21. This will be the first time the tournament has been held in the winter. The abrupt change in season is because summer temperatures in Qatar can reach above 113 degrees Fahrenheit due to its location. It is also the first time the tournament has been held in a Middle Eastern country. Furthermore, the Hill student body will be on campus when this year's World Cup takes place. It will surely be a fun opportunity to celebrate the game of football.
A total of 29 of 32 teams have already qualified for the 2022 World Cup in Qatar, including the host nation. That leaves three spots to be filled in June.
In addition to the host nation of Qatar, there are 12 nations from Europe, four from South America, four from Asia, five from Africa, and three from North America that qualified for the tournament.
There are a lot of big names in this year's World Cup. This will also likely be the final World Cup for Messi and Ronaldo, two of the biggest sensations in the modern soccer scene. 
In my opinion, Brazil will end up winning the trophy simply because of how exciting their attackers are. In the starting lineup, Neymar Jr. has already proven his special place in the world of soccer. Anthony from Ajax put on one of the flashiest showings on the wings this season. Anthony displayed his prominence in the game by smashing 12 goals and 10 assists, leading the Dutch giant Ajax on track to another league title. Vinicius Junior had his breakout year at Real Madrid, his shiftiness and pace could be the sharpest weapon in Brazil's arsenal. Furthermore, Brazil's bench has a lot of depth. Youngsters, Gabriel Martinelli from Arsenal, and Gabriel Jesus from Manchester City all are reliable players playing in the Premier League. Aside from attack, Brazil has two of the best goalkeepers in the whole world: Alisson and Ederson, playing for two of the best club teams in the world, Liverpool and Manchester City. On the defense, Thiago Silva is a three-time World Cup participant. The veteran will surely carry the team with his experiences and lift up younger players.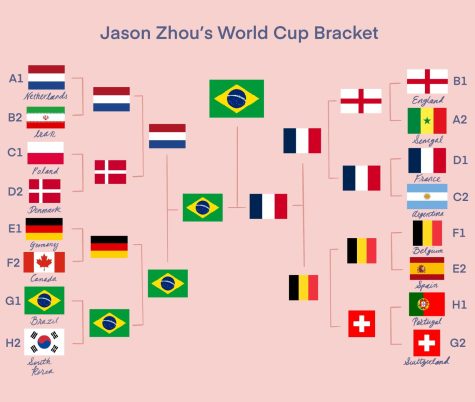 Another World Cup favorite, Portugal, had a lot of expectations on them. However, I doubt they will go far. In the European qualifiers, Portugal struggled to score against weaker countries like Azerbaijan and Ireland. Serbia came on top of the group ahead of Portugal in the end. The slow-to-warm-up playing style would surely hurt Portugal in the big stage. In addition, key players like Bruno Fernandes and Cristiano Ronaldo are having a tough year in Manchester United. It is questionable whether they could turn their momentum around and play good soccer. 
In comparison, I am really excited to see what Canada can do in this year's World Cup. This is only the second time in history that the Canucks qualified for the World Cup. Their last appearance was 36 years ago. In the North America qualifiers, Canada was on top form and clinched the World Cup spot over USA and Mexico. Left wing-back Alphonso Davies and striker Jonathan David would be a huge threat for any teams that play against Canada. 
The Netherlands cannot be ignored as well. The new generations of the tulip army are aiming for big breakthroughs in this year's World Cup. Some names to remember besides the world-class players like Virgil Van Dijk or Frankie De Jong are Arnaut Danjuma and Steven Berguis. Memphis Depay would be a World Cup golden boot contender in my opinion. 
Hill soccer enthusiasts have a lot to say about this year's competition as well.
Brazilian Kaio Reis '23 believes his home country will win the title: "We have the most balanced team out of everyone, and we are going to put on a show this year in Qatar."
Blake Groff '22 has other thoughts: "I think that Portugal is going to win it all. Cristiano Ronaldo is like an idol for me when I was young, and I really want to see him shine in his potential last World Cup." He said that the hot weather in Qatar is a big factor. "Colder countries like Canada, Netherlands, and Switzerland are going to suffer a lot from the weather as they are not used to playing in the heat," Groff said.
Jesse Corser-James '23 is rooting for his country Australia. He also hopes Canada will play well. "They are sick," James said. Similar to James' remark, Rachel Maier '22 and Saager Sharma '23 raised their hands and started chanting "USA, USA" when asked.
View Comments (1)