Fall varsity athletes reflect on what made the 2021 fall season special
With the outbreak of COVID-19 halting so many student-athletes' seasons last year, the return of fall sports seems almost dreamlike. The buzz around campus is a different energy with athletics being in full swing. The stands are more packed, fans are cheering louder, and athletes are playing harder. As the season comes to a close, take a look at each team's fall highlight. 
Athletic Director Seth Eilberg said that, after so much time off, "normal" feels pretty good.  "We're up and running; it feels like normal again," he said, regarding Hill participating in the fall Mid-Atlantic Prep League games. 
The fall athletes were even more excited than Eilberg about the return of fall sports and the highlights of their seasons. This fall season has created memories that Hill's student athletes will take with them for many years after they leave Hill's campus.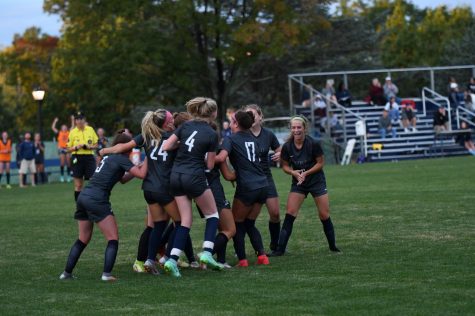 Mandy McCarrick '22, the co-captain of the varsity girls soccer team, said, "The biggest highlight of our season would be the win against Westtown. We won 1-0 and, in order for us to win, we all had to come together and we put a lot of effort into that game. It was a lot of fun to win, so that's my favorite memory." This win ended the team's three-year losing streak, a statistic that is being pushed to the back of Hill fans' minds because of the team's continued success this fall season.
This fall also brought opportunities to develop new athletes, Owen Manganiello '22, co-captain of the varsity boys cross country team, explained. "The biggest highlight of my cross country season so far has just been coming in as an older guy and kind of being able to show some of the younger guys the ropes. Seeing them improve is really special to me because of how I was when I was younger." 
Manganiello lost that mentor position last year due to COVID-19, and he greatly enjoys having this opportunity back. Varsity girls cross country team runner Colette Zidek '23 embodies the same upperclassman leadership mentality as Manganiello. 
"The biggest highlight for my cross country season so far has been our Paul Short Invitational. It was a really big race, and a lot of colleges went and a lot of high school teams went," Zidek said. "A lot of our girls who were new to cross country last year had never seen anything like that before, so to see everybody super excited to run, and to finish, it was really awesome."
Zidek, who is a strong runner on the cross country team, emphasized that, especially in running, the definition of accomplishment can be a lot different compared to other sports. She focused more on the success of her younger and newer teammates being able to finish a tough race than on herself.
Artem Kyselov '23, the varsity boys water polo goalie, also noted the role of the team's younger athletes. "This year we got a pretty young team. Every game, every practice, we're learning something new for everyone," he said. 
Kyselov believes that the most impactful moment of their season was one that showed how far the team had come this season. "Our Lawrenceville game, away at L-Ville, was so great. We know what tactics we all have, and everyone remembered stuff from practices. Then we go and we play a real hard game. Everyone understood what he had to do to win this game," he said.
Varsity girls tennis experienced something similar to this. Many of their 11 roster spots were new players for the Blues. Ava Carosella '22, a returning varsity tennis player, said, "I think the highlight of the season has been really getting to know the girls, just because we had a pretty new team last year during the pandemic."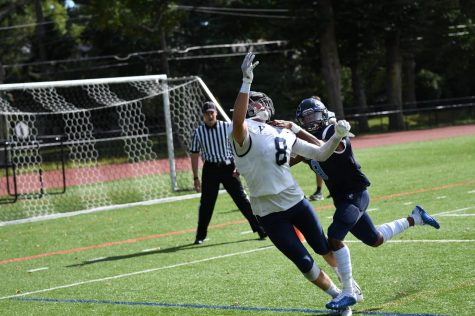 This strong team culture is something that other fall athletes observed as well. Cole Bilotta '23, a member of the varsity football team, described the culture on the team as a major role in their recent spike of success. "The team chemistry is pretty good; all the boys get along. The atmosphere is good, we get along outside of football; it's perfect," he said.
Rease Coleman '22, a captain on Hill's varsity field hockey team, agrees with Carosella and Bilotta that Hill sports teams harbor great bonds. Being such a nationally competitive team comes with its pressures and challenges, but Coleman expressed how keeping this year's team close has been the key to maintaining a good team. 
"This year's team culture is a tight-knit family, and that's what HFHF is: Hill Field Hockey Family forever. And that basically means that we're always going to be there for each other," Coleman said. "Bringing the shovel means that whatever ends it goes, you can call one of us or anyone that was on the team in past years or recent years, and we'll show up for you. That's just a kind of big thing on the field and off the field. We'll show up for each other. You put in the work and we'll put in work for you." 
This team culture is a large X-factor that helps to separate Hill from their rival teams and also helps them to achieve their goal of winning States. But this goal of winning a state championship is not unfamiliar to other Hill teams. This is not just what girls field hockey wants, but also what girls water polo and boys soccer desires as well.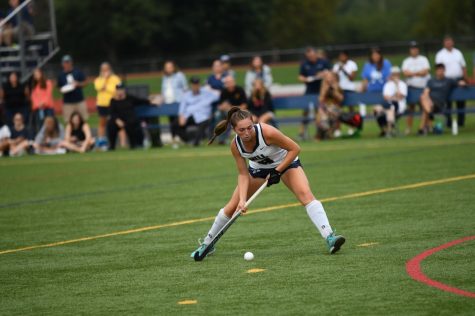 Harliv Singh '23, a three-year member of the girls varsity water polo team, said, "Our main goal for the end of the season is to win Easterns, which is basically our state championship tournament." So far, the girls water polo team has had a successful fall, with Singh's highlight being beating Lawrenceville 18-8.
As for boys soccer, varsity captain Noah Toole '22 said, "A season is very long, and we're coming up to the end of it, but I think that we can progress to get a state title and get pretty far." Not just looking towards the future, Toole still knows to celebrate the team's big moments. He states his favorite memory this year as their big win against the Philadelphia Union Academy. 
"That's where we flipped our switch and we grinded. We came together as a family, as a unit, and just put two in the back of the net. We also had a nice fan base, so that kind of shows the connection with our school community, and our peers," Toole said. "But also, we played soccer. We just passed the ball; we played; everybody came together — the bench, everybody."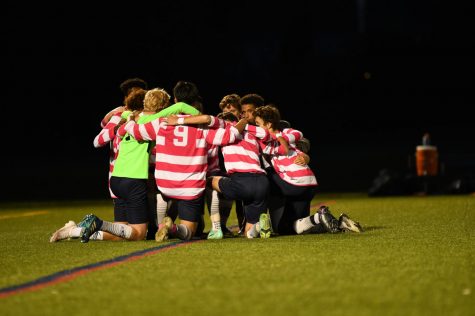 Toole's words of coming together as a family translate from the Wells-Davidson Pitch to the Brookside Golf Course. Ryan Kearney '23, a member of the varsity boys golf team, said that his favorite moment of this fall was playing during family weekend. "All the parents came out, and we played a great round of golf; we had a lot of great scores," Kearney said. "It was all around a great day to hang out with our families and play golf."
Whether it be on the course, the fields, the courts, or in the pool, Hill sports teams have had a successful first fall season post COVID-19. This doesn't just mean the games they have won or the championships that they will bring home. It is the feeling that was expressed by many fall athletes of having a strong team culture that the Hill athletics community has kept despite losing last year's athletics.
Staff Writers Joey Asterino '23, Jesse Corser-James '23, Rose Flaherty '23, Peter Galindez '23, and Caden Olenczak '23 contributed to this report.
Leave a Comment