Rebecca Shipper – from player to head coach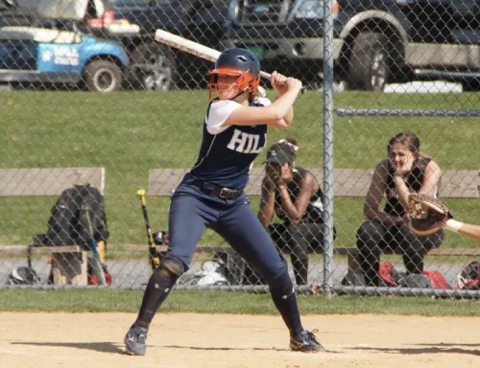 At the nearest field that adorns Hill's outdoor facilities, head softball coach Rebecca Shipper can often be found passionately encouraging her students during afternoon practice. An eager voice radiates to the players across from her at the diamond. Shipper's assistant coaches stand nearby, also preparing the athletes for success. 
But just a few years ago, Shipper started out as a player on this same field. She was most engaged in softball, but she was also a star member on the girls field hockey and basketball teams. Her position as a captain on her spring team made it obvious that Shipper would become a serious softball athlete. 
She continued on to have successful seasons at the University of Florida and University of North Carolina – Charlotte, proving her talent. She also became determined to pursue mathematics, earning a M.A. at Villanova University. 
Though Shipper had a successful career after her graduation from Hill in 2014, the relationships she made on campus eventually ended up bringing her back to Pottstown. Shipper fondly remembers her return to Hill, saying, "The experiences that I had here were so special that I knew I wanted to continue making more."
Shipper now adds to the experiences of Hill students. She returned as a math teacher, dorm parent, and head softball coach. Her involvements in the classroom, dorm, and field have proven to be worth the return to campus. She often sees herself in her students. She hopes to help guide them and be a mentor in the way she would have liked as a student. 
Shipper reports that she has "always considered the Hill community to be special to her," and she looks forward to connecting with her student-athletes this season.