Rivals seek revenge on the J-Ball field
Video credit: Jesse Corser-James '23 and Joey Asterino '23
J-ball is a tradition that is deep-rooted in the culture at Hill, and it surely gets the students excited. This season, which started April 26th, will feature a mix of top veteran players, as well as rookies who are experiencing this tradition for the first time. 
David Hoffman, director of student enrichment and activities at Hill, described J-Ball as "a tradition at Hill where students put together teams and compete, playing a game similar to baseball with a tennis racquet and tennis ball. Its official name is Javelin Ball." 
Each year features a wide range of teams: those who are willing to do anything for the trophy and others who are out there to have fun. A handful of current students commented on how they're feeling about the J-Ball tournament this year. 
Kimaura Shindler '23 is ready for her second J-Ball season with Katy Gray and Team after her team worked hard last year, yet fell short of winning much-needed games to advance into the playoffs. "We had a lot of grit; we had a lot of passion, but we didn't win a game," Schindler said.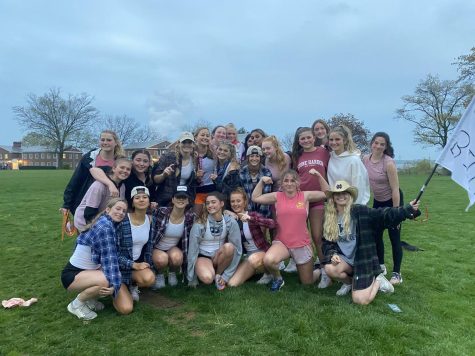 Kerry Elliott '23, who also is a part of Katy Gray and Team, was a top player in the J-Ball tournament last year. She said, "I am going to set my standards really low and then exceed them." Elliott seemed ecstatic to play this season and said she is ready to get some wins under her belt. 
That vibe was pretty consistent for most of the J-Ball players interviewed. Nick Jarmain '23, a new student to Hill this year, is joining the popular Captain Daddy's Banana Boat with boys in the fifth form. Even as a newcomer, he said, "I'm willing to sacrifice my body and my time."     
Lukas Zimovcak '24, who is also new to the game, said, "I've never played it before, but I heard the Banana Boats are the most hated team on campus. We got a lot of new guys on the team this year, but I feel like we are going to beat the Banana Boats in the championship." 
Mason Moore '24 is playing with a new team this season. However, as an injured reserve, he plans on being more of a coach than a field player.  "This season we got a good group of good guys," Moore continued.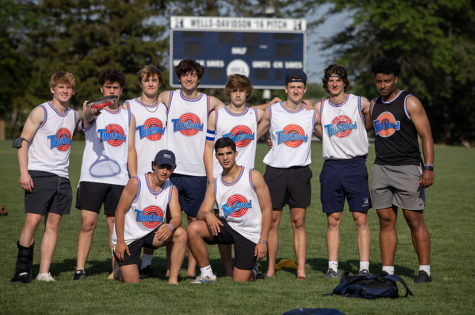 Tyler Chenevert '22, captain of Tune Squad, the defending champs from last season, said, "The only team that can beat us this year is ourselves." Chenevert feels that the other teams aren't a threat to him. 
Commitment and competitiveness are two traits that run deep in the foundation of many J-Ball teams. Throughout the school year, in anticipation, teams form rivalries with other teams. Captain Daddy's Banana Boat is seeking revenge this year and is aiming right at the heart of the defending champs: Tunes Squad. 
Quin Craig '23, a returning Captain Daddy's Banana Boat player, said that last year "we were first-round exits, made a lot of rookie mistakes, but we're coming back for vengeance this year." 
Chenevert finished with, "Now it's time to win another championship." 
GRAPHIC CREDIT: Jesse Corser-James '23
Leave a Comment