Hill Students bid farewell to Ellen Deitrich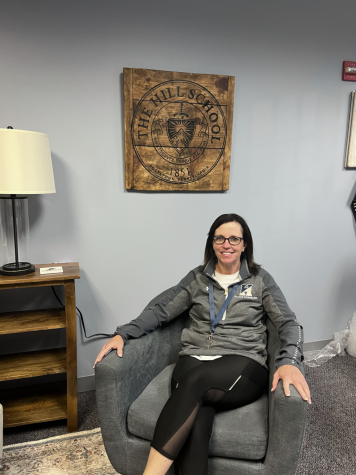 As the year comes to a close, many of our well-beloved faculty members are leaving Hill and starting a new chapter in their lives. Ellen Deitrich, the director of college counseling, will be moving to Saint Mary's Hall School in Texas, where she will serve as the assistant head of school for academics and dean of college counseling. Looking back on her years at Hill, Deitrich said that one of her highlights was her team of counselors. 
"We work really well together and they're really good friends," Deitrich said. "It's a very close-knit group. Sometimes we shut the doors for our department, and we just laugh."
Deitrich stated that she is very proud of the creation of the Reverse Advisory Board. In this two-day program, Hill brings in college representatives to sit in on classes and visit the Pottstown community. The guests go to seated lunches, watch games, and hear from faculty. This program benefits the college counseling team and students as the representatives communicate with different faculty and give them a thorough evaluation. Once these college representatives read the applications from Hill students, they feel more connected to the students, having seen the Hill experience. Deitrich pointed out that she is very proud of the way the community, faculty, and staff stepped up to support the program. 
One of the biggest changes during her time at Hill was the switch from assigning students to a college counselor in January of the fourth form instead of spring of fifth form so that the counselor can oversee the entirety of the process. Deitrich noted that looking at the two-year instead of one-year plan and getting to know the students a bit earlier really helps the bond between counselors and students and allows counselors to have a deeper understanding of each student. 
When speaking about her plans for the future, Deitrich mentioned that, being born and raised in Pennsylvania, moving to Texas is going to be a big change. As the new assistant head of school for academics and dean of college counseling, she will oversee the academic program pre-k through 12, as well as the faculty mentoring and parent education programs and the accreditation process. 
"You know, for me, it's very, very, very hard for me to leave Hill, and I love it here. I love the kids – absolutely love the kids here. I wasn't looking to leave, but the job sort of came to me, and it's an opportunity for me to continue to grow professionally and do some things I haven't necessarily done before."
Although this was "an agonizing decision" for Deitrich, she is incredibly confident that the students will be in excellent hands as the college counseling team is a well-oiled machine that will continue to function well despite the changes. She assures that each student is guaranteed to have a team of people who care about their process. Deitrich strongly believes that Lauren Hoyt and Jodi Robinson, the people who will take over her position, are extremely qualified, and Deitrich encourages the students to welcome them as the college counseling office moves forward. 
Hoyt stated that Deitrich "has been an incredible advocate for students and has worked hard to create a comprehensive program to support all students. Saint Mary's Hall is lucky to gain such a strong leader, and I am fully confident that she will have a permanent, positive impact on their community, as she has ours." 
Furthermore, she is excited to continue building upon Mrs. Deitrich's legacy with her partner, Robinson.
Anika Palmer '24, who is currently in Deitrich's advisory, stated that Deitrich "has always been so supportive of us and is always open to talk or help when we need it. Our whole advisory will miss her."
View Comments(1)