The 2022 Spring Arts Festival celebrates Hill musicians and says goodbye to its departing sixth formers
The CFTA stage transformed from an anticipatory black into a bright array of light as student vocalists, instrumentalists and dancers seized their moment in the limelight, some for the very last time. Before an audience of trustees, students, faculty, and parents alike, Hill students from the Orchestra, Jazz Ensemble, Vocal groups and Dance Ensemble performed in the Spring Arts Festival on April 29, the last of its kind for this school year. 
The evening commenced with an orchestral performance of Mozart's "Eine Kleine Nachtmusik," led by Nic Li '22 on the violin. The following songs were all conducted by Senior Master of the Arts Margaret Neiswender. 
"We are still appreciating the opportunity to be sharing live music after the restrictions enforced by Covid, so there was an enhanced level of gratitude for the 2022 Spring Arts Festival performance," Neiswender stated in an email. She stated she was delighted to see the festival's supportive audience. 
For Orchestra, the festival was a night of overcoming challenges, namely with their cello duet. 
 Neiswender stated the concert also featured two cellists in the "Vivaldi Double Cello Concerto," a challenging piece that they've never performed before, and Johnny Dai '22 and Rena Zhang '25 gave an "exceptional performance." Indeed, Dai and Zhang's duet concluded with roaring applause from the audience.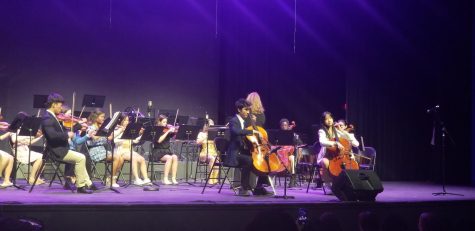 Orchestra has five sixth formers – Nic Li, Anna Guo, Callie Connelly, Sarah Jiang, and Johnny Dai (also in Hilltones) – who shared the stage together for the last time. Their final farewell song, "City Nights," was dedicated to Neiswender. 
"I think that the whole music department, including dance, did an amazing job. It was easily the biggest crowd that we've had since covid, and I think that having that live audience helped bring some energy to the performers," President of Orchestra Callie Connelly '22 stated. "As a sixth former, it was a very sentimental night, but I think that we all ended on a really strong note."
Wesley Connelly '22 introduced the Jazz Ensemble, whose opening song was "Coconut Champagne." 
"Several of the 6th form jazz musicians played their best improvised solos of their Hill career; Maya Brigandi, Wesley Connelly and Andrew Spatarella," Neiswender said. The fourth sixth former, Allie Mullins, played the piano throughout the entire performance. 
"To the graduating Sixth form musicians I offer my sincere gratitude for sharing their time, talent and enthusiasm for music with the Jazz Ensemble and Orchestra," Neiswender said. "They leave a legacy of musical excellence, compassion and kindness that helped guide the ensembles through many months of Covid and their leadership and enthusiasm kept the music playing!" 
The Jazz Ensemble ended with "Superstition" by Stevie Wonder, leaving the stage for the Hill Chamber Choir and Chorus, who opened with the classical Indian piece "TaReKiTa" with accompanying dancing from Nimala Sivakumar '23.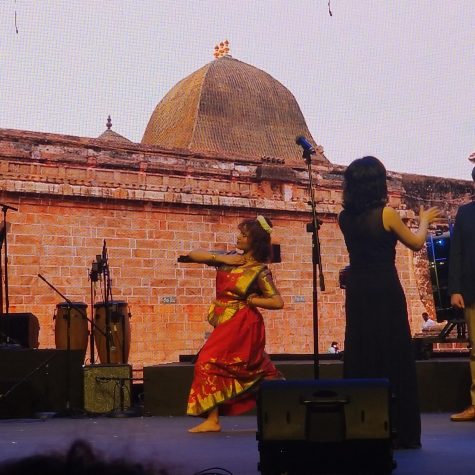 Dai followed with a song dedicated to his mother, who he didn't get to see for a long period of time due to the pandemic, and a promposal to Isabella Moranheras '22, which prompted a thunderous reaction from the audience. 
"It was a huge celebration of everyone's achievements, really feeling good about being on stage, and the end of the school year, It was really fun seeing the promposal," Oaklawn-Tuttle Director of Vocal Music Yoon Soo Lim said.
After a catalog of foreign, classical, and modern music, the Hilltones and Hilltrebles ended with shoutouts to their graduating sixth formers Holly Perna, Harry Zhu, Liza Eames, and Johnny Dai. Their shoutouts were from Anna Carroll '23, Luke Gerdeman '23, and Frankie Halvey '24. 
"They have kind of grown up in the program," Lim said. "You know, Harry and Liza have sung for four years, Holly has sung for three years, and Johnny one year. So I've known them for a very long time and I've seen how their lives have transformed through music."
Lim commented on her sixth formers pursuing music next year in college, either by taking classes or trying out for acapella groups. But for some underformers, it was their last time singing with them. 
"It was a little bit bittersweet for sure, because I was virtual for most of last year, and then coming into the choral family, we're all pretty tight," Frankie Halvey '24 said. "Just knowing that they're about to graduate now and that I'll probably not see them for long periods of time. But then of course getting to celebrate, like Mrs. Lim said, their time here, it's a lot of fun."
Emil Palacios-Alvarez '24 echoed this sentiment, saying, "I also agree that it was bittersweet, seeing that our senior leaders have to leave this year, but it was fun working with them and getting to produce this final and lovely product that we got to put on stage"
Lim added that she believes "music affects them in such a great way that they can give back to the world through music as well as something they find passion to do. I think music is the best when we share it, not just to keep it for ourselves." 
The evening concluded with a performance by the Dance Ensemble. Though singular in number, it was powerful in impact on the audience, tying the previous performances together with a group dance to "Turning Tables" by Adele. It also served as a precursor to their last dance recital on May 6. 
Neiswender offered a final thought for Hill's sixth formers, saying, "To all of the 6th formers, take a chance and try something that pushes you outside of your comfort zone, learn an instrument, attend arts performances at your college, get involved with making and appreciating art in your community as the Arts make the world a more beautiful and better place to be!"
Leave a Comment