Hill college counselors advise on improving applications over summer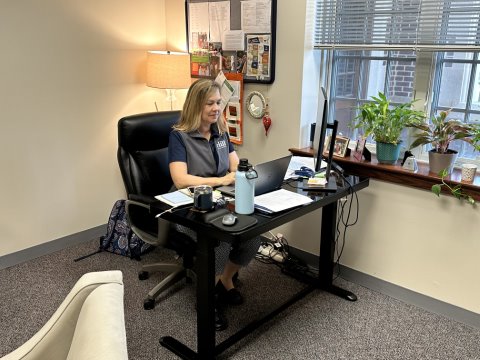 As the dreaded final exams come to a close, The Hill School fills with the buzz of excitement as students prepare for their long-awaited summer break. For third formers, it is a return home after their first year, while upper formers start their summer by pursuing internships or employment opportunities that align with their future aspirations. 
However, rising sixth formers experience a significantly more memorable summer, as it marks their last summer before college admissions and a time of immense stress, pressure, and anticipation of receiving acceptance to the best-fitting school for themselves. This "sixth form summer" represents a time of great significance, as it allows for the last few internships, programs, or athletic training that could potentially determine the college path of rising sixth form students. 
To make the most of this crucial time, Jodi Robinson, Co-Director of College Counseling, recommends that "students follow the plan they set up with their respective college counselors," and to "try researching and if needed, visit various colleges, while allocating time for test preparations and summer reading or prep for classes."  
Robinson also suggests to devote time to write common application essays. Common application essays are vital pieces of the entire college application, as they reveal who the applicants are on a personal level that cannot be seen in quantitative transcripts. "I advise that students aim to finish their common application essays mainly during the summer, as it is the time where no school work, or APs distract their already burdened heads."  
This allows the sixth form students to engage in final activities and academic endeavors before revisions by their respective counselors during their last year at school. 
Robinson also recommends pursuing possible ventures such as summer programs, jobs, internships, athletic training, or even theater-related activities that can amplify a student's interests regarding their final decisions on their college majors. She emphasizes that "these activities are not transactional," meaning that they do not necessarily yield a higher result in college admissions. These activities are entry points to finding what is best for students, whether it be attending a STEM program or participating in a hackathon. The importance is not placed on how the activity will look on the applications, but more on how it will enrich the tapering of choice of learning in college, as well as which college to choose. 
Robinson's final piece of advice was surprisingly not as stringent as the prior two. "Rest and rejuvenate; Enjoy the summer and the longer days. Take a vacation!"  
Although these tips could help those who need to further structure their summers, some rising sixth formers have shared their existing summer plans. Colin McLenaghan '24, will attend a month-long high performance rowing camp in Sarasota Florida, to further support his college athletics.  
Similar to McLenaghan, Anna Cowan '24, who is committed to play division one field hockey at UMass Amherst, is focusing on her field hockey training. She is also going to work part time at a local business in downtown Portsmouth, New Hampshire, her hometown. On top of this, she is beginning an  internship near the end of the summer break, which she will be continuing throughout the next school year via independent studies., Cowan  also plans to work  at a women's athletic wear brand called Title Nine, along with preparation for the ACT in June.  
Although some of her previous plans have not worked the way she wanted, Sophie Walsh, '24, has a fairly structured summer; she is planning to take an online college engineering course, and she will be finding a local institution to volunteer, in order to give back to the community. She is also preparing for her role as a prefect, and is also preparing for the new academic year, and working on her college applications.  
And so it appears that many students' summer plans are  on the right track based on Robinson's tips for spending a successful last high school summer. By not only engaging in meaningful activities that will empower their college applications but also augmenting their needed skills for college, they are investing in personal development that makes an impact beyond their collegiate application process. Summer vacation is still weeks away, so for those who have not yet planned their summers, it is highly advised that they not only look for something that will give them an extra line on Common App, but also improve themselves for their long term endeavors. 
Leave a Comment